For most of the country masks are a thing of the past. People are sick and tired of masking up and being told what to wear. The same can't be said for California though where liberals love to submit to tyranny. One store owner is changing his mask policy and his reasoning might surprise you.
Masks have now been banned at this store, but not for the reason you may think.
According to Fox News, A Beverly Hills store has implemented a new policy prohibiting mask-wearing in its establishment following a spate of robberies where thieves could not be identified.
Fraser Ross, the owner of Kitson on Robertson Boulevard, released the following statement:
"At Kitson, we prioritize the safety of our staff and customers. We noticed a disturbing trend of individuals wearing masks to avoid identification in various situations including, but not limited to, shoplifting, verbal harassment, and physical assault. The mask mandate may have begun as a health precaution but we believe it is now being used by some people for nefarious purposes. To that end, we enacted our own mandate of sorts. We do not allow the wearing of masks in the store during regular business hours. Those people who wish to wear masks are free to set up an appointment for a personal shopping experience or visit our website."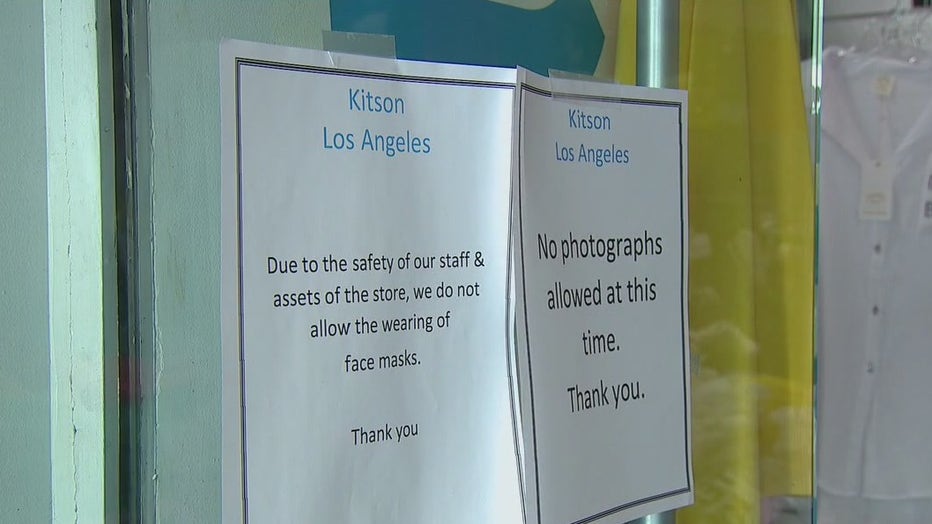 Kitson sales associate Santos Hemenway also spoke with FOX 11 about the policy. According to him, some customers have been discouraged from shopping at the store, but some have liked it.
Hemenway said other stores in the area have also been robbed. "We've seen several shops shut down because it's too dangerous," he said. According to him, the area has become unsafe. A grocery store in LA was robbed last week by two masked criminals.
While this store banning masks may help reduce crime, Los Angeles has become a breeding ground for theft.

Fox News reports that the Los Angeles Police Department warns residents not to create a new looting trend where suspects form a "flash mob" and ransack shops.
Last Monday, about 100 people stormed a 7-Eleven convenience store and looted it. His comments were made in response. Snacks, cigarettes, lottery tickets, and lottery tickets were all taken by the suspects as they dispersed throughout the store.
The LA detective said the suspects will be "held accountable for this action." He added that "we're here to basically say" this type of crime will not become a new trend in the city.
With criminals being let back on the streets after violent crimes, due to "soft on crime" policies and taking advantage of CDC guidelines, clearly this store has had enough by implementing their own mask policy. Liberals are getting exactly what they voted for in California.