In order to buy alcohol or tobacco products, everyone knows to bring their ID with them – but what about buying Reddi Whip at the grocery store? That's something you need to be aware of now in New York.
One store in New York is making a new rule when it comes to buying whipped cream.
According to MSNBC, a photo from New York's Albany County has been making the rounds online thanks to a surprising message. Stewart's convenience store appears to display the sign on the refrigerator door.
The sign reads that "effective 8/12/22 we will be IDing for whipped cream! Must be 21 years old!"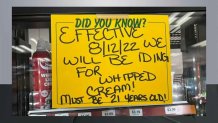 What is the reason behind the stores suddenly limiting the purchase of the tasty ice cream topping to adults? It's due to the fact that the cans can be inhaled. In some cases, teens use the nitrous oxide (a.k.a. laughing gas) in the whipped cream canister to get high, a practice known as whipping
As a result, New York has now made it illegal for people under 21 to buy cans of whipped cream. We're as surprised as you are.
This isn't a new restriction either. In November 2021, Senator Joseph Addabbo of Queens quietly signed the law into law.
Addabbo said at the time the bill passed in fall of 2021, "This new law is an important step in combating a significant problem for many neighborhoods throughout my district,". "The need to limit the access and sale of whippits first became apparent after receiving constituent complaints about empty canisters on neighborhood streets. Used whippets piling up in our communities are not only an eye sore, but also indicative of a significant nitrous oxide abuse problem."
Addabbo went on to say that young people mistakenly believe that nitrous oxide is a "safe" substance, and use it improperly to get "high.".
A first offense of selling whipped cream canisters to someone under 21 is punishable by a $250 fine, and any subsequent offense can result in a $500 fine.
This law is in response to the rise in drug overdoses in America and this law is a way to combat that
Fox News Reports, The New York Association of Convenience Stores president Kent Sopris told the Times Union that when he became aware of the law just two months ago, he advised its members to enforce it, which he attributed to an issue with the tracking system of the law.
Schenectady-based supermarket chain Price Chopper told the Albany newspaper that self-checkouts will start flagging whipped cream canisters as age-restricted products on Sept. 1. Similar measures have been taken by other food retailers.
Over 107,000 Americans died from drug overdoses last year, the highest number on record and a notable increase from 93,655 deaths in 2020.
It's unfortunate that these steps need to be taken but it may be for the best to ensure teens are not at risk and to safeguard against misuse of the gas. We will be tracking this law and its efficacy. Make sure to stay tuned into NextNews for any updates