Saudi Arabia's support for OPEC+'s decision to reduce oil production by 2 million barrels a day prompted the chairman of the Senate Foreign Relations Committee to call for a freeze in US relations with the kingdom.
According to the Washington Examiner, in response to the loss of Russian oil due to the war in Ukraine, earlier this year the U.S. had pressured Saudi Arabia to increase oil production. However, with this move by the Saudis, U.S. and western European gas prices are expected to increase, and Russian aggression toward Ukraine is expected to increase as well.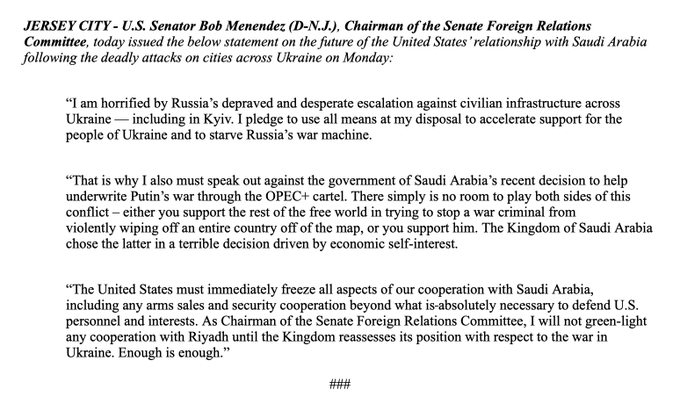 In a statement, Sen. Bob Menendez (D-NJ) said "The United States must immediately freeze all aspects of our cooperation with Saudi Arabia, including any arms sales and security cooperation beyond what is absolutely necessary to defend U.S. personnel and interests. As Chairman of the Senate Foreign Relations Committee, I will not green-light any cooperation with Riyadh until the Kingdom reassesses its position with respect to the war in Ukraine. Enough is enough."
As part of its veto power, the Foreign Relations Committee can block exports of weapons to Saudi Arabia until its oil production is increased.
The Democratic leader is the latest to criticize Saudi Arabia's decision. In response to Russia's war, Senate Majority Leader Chuck Schumer called the reduction a capitulation.
Schumer tweeted, "What Saudi Arabia did to help [Russian President Vladimir] Putin continue to wage his despicable, vicious war against Ukraine will long be remembered by Americans. We are looking at all the legislative tools to best deal with this appalling and deeply cynical action, including the NOPEC bill."
A NOPEC bill would allow OPEC+ member states and businesses to be sued under antitrust laws.
To reduce OPEC's control over energy prices, Congress should use additional tools and authorities, according to the White House.