In the wake of Liz Cheney's PAC's $500,000 TV advertisement urging Arizona voters not to vote for Republican nominees Kari Lake and Mark Finchem, Lake's campaign announced a significant boost in donations.
The Arizona Sun Times reports, Since the ad was released, Lake's campaign has received more than $300,000 in donations.
"We JUST hit $300K raised in a SINGLE DAY! Shoutout to Liz Cheney, my biggest fundraiser yet," Lake tweeted.
She also sent a letter to Cheney, thanking the RINO politician for the "generous" contribution.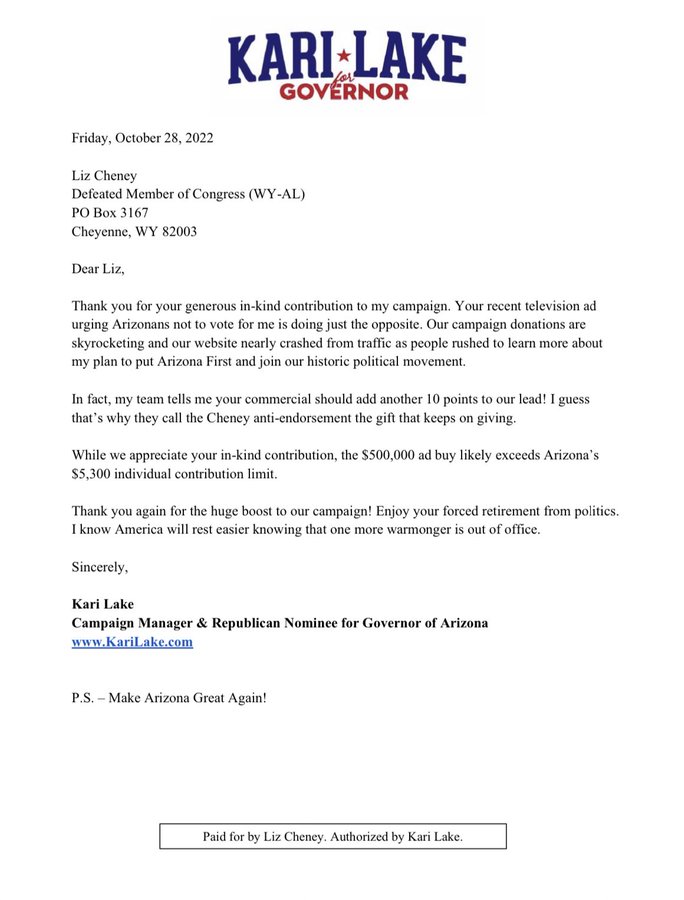 "Thank you [Cheney] for your generous in-kind contribution to my campaign. Your recent television ad urging Arizonans not to vote for me is doing just the opposite," Lake said in a letter to Cheney. "Our campaign donations are skyrocketing and our website nearly crashed from traffic as people rushed to learn more about my plan to put Arizona first and join our historic political movement."
Lake's letter concluded, "Enjoy your forced retirement from politics. I know America will rest easier knowing that one more warmonger is out of office."
Earlier this year, Liz Cheney lost the state's primary to Republican challenger Harriet Hageman. To keep Lake out of office and others like her – who Cheney views as too pro-Trump – Cheney says he will campaign for Democrats.
"Honor" is the first TV ad from Cheney's leadership PAC, The Great Task, that attacked Kari Lake and Mark Finchem. Cheney's remarks from an Arizona State University event titled 'Courage in American Leadership' are recycled in the commercial.
With the general election more than a week away, a FiveThirtyEight analysis found on Tuesday that Kari Lake was ahead of her Democrat opponent Katie Hobbs by 3.0 percentage points.
It looks like RINO Liz Cheney has backfired spectacularly! Not only has her half-a-million dollar attack ad failed to hurt Kari Lake's campaign, it actually caused the Arizona GOP candidate's fundraising to skyrocket. Talk about a major backlash – while Cheney may have thought she was hurting Lake and Finchem, she's really just pouring fuel on their fire. And with Lake currently leading in the polls, it seems that this whole debacle will just end up being a waste of money for Cheney and her PAC. Looks like when it comes to representing conservative values, it's Kari Lake who's really crushing it. Hilarious backfire for Liz Cheney – keep it up, girl!