As you may have heard, in a speech on Friday, Joe Biden promised to shut down coal plants "all across America."
His reasoning? Biden claimed that coal plants "cost too much money."
Now, according to The Blaze, West Virginia Democrat Senator Joe Manchin fired back at Biden on his plan to shut down coal plants – which would severely impact his home state of West Virginia.
"President Biden's comments are not only outrageous and divorced from reality, they ignore the severe economic pain the American people are feeling because of rising energy costs," Manchin began his statement.
"Comments like these are the reason the American people are losing trust in President Biden and instead believes he does not understand the need to have an all-in energy policy that would keep our nation totally energy independent and secure," the Senator from West Virginia continued.
"It seems his positions change depending on the audience and the politics of the day," he added. "Politicizing our nation's energy policies would only bring higher prices and more pain for the American people."
Manchin stressed, "Let me be clear, this is something the President has never said to me."
"Being cavalier about the loss of coal jobs for men and women in West Virginia and across the country who literally put their lives on the line to help build and power this country is offensive and disgusting," he said.
Manchin concluded by demanding an apology from Biden, "The President owes these incredible workers an immediate and public apology and it is time he learned a lesson that his words matter and have consequences."
In response to Biden's remarks, the White House attempted to do damage control by issuing a lengthy statement claiming that people are twisting Biden's words, even though they are merely quoting him.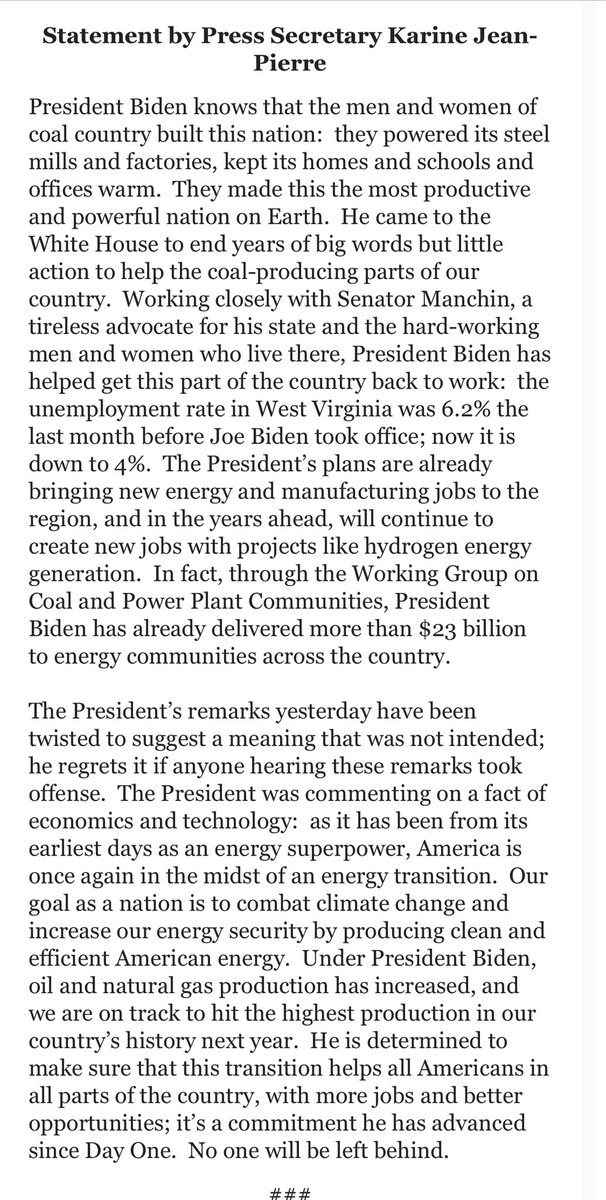 The statement reads in part, "The President's remarks yesterday have been twisted to suggest a meaning that was not intended; he regrets it if anyone hearing these remarks took offense."
We know exactly what Joe Biden said, and we can't let the White House spin it any other way. Joe revealed the plan of the environmental communists to shut down coal plants all across America, devastating our coal energy sector and countless workers in places like West Virginia. Even Senator Manchin, a Democrat from a coal-dependent state, came out against Biden's plan. The White House can try to clarify and cover up all they want, but we know the truth now. It's time for Republican victory against this radical leftist agenda. We must protect our industries and American jobs. We must always stand with American energy independence. And we must ensure that Joe Biden's dangerous plan for shutdowns never becomes a reality.