Kevin McCarthy (R-CA) announced that he will challenge Nancy Pelosi (D-CA) for the position of Speaker of the House.
As votes continue to be counted for a handful of races, Republicans appear poised to control the House of Representatives. In a letter on Wednesday, McCarthy congratulated his new colleagues on their modest gains and asked for their support.
"I am determined to ensure that this majority reaches its full potential. I will be a listener every bit as much as a Speaker, striving to build consensus from the bottom-up rather than commanding the agenda from the top-down," McCarthy wrote. "That means putting the right people in the right spots and harnessing the power of our entire conference. Everyone has something valuable to bring to the table and my door will always be open to your ideas and input on how we best achieve our shared goals."
For two decades, Pelosi has led the Democrat Party in the House as its top official. Under President George W. Bush and President Barack Obama, she controlled the gavel from 2007 to 2011, and once again under President Donald Trump after Democrats regained control of the chamber.
Meanwhile, Republican Rep. Steve Scalise (R-LA) has announced his intention to run for majority leader.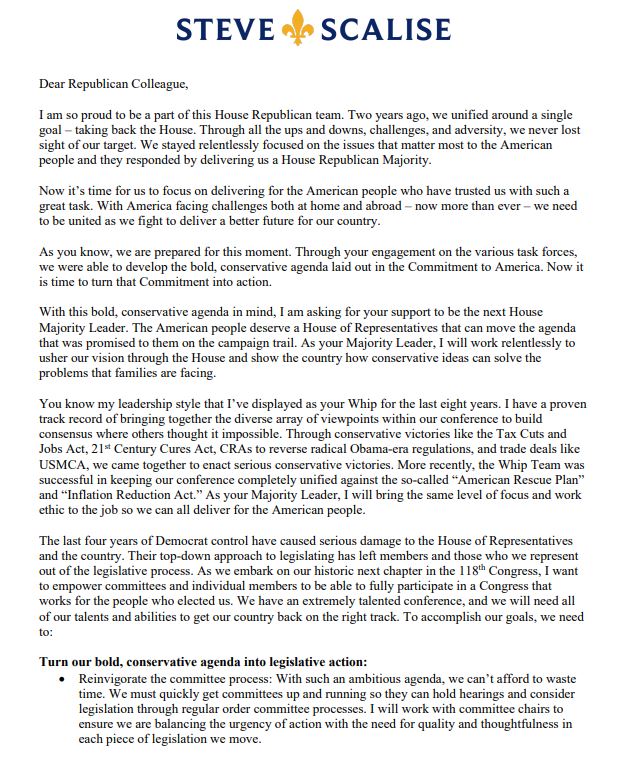 "Through your engagement on the various task forces, we were able to develop the bold, conservative agenda laid out in the Commitment to America," Scalise declared in a letter to GOP colleagues, referring to Rep. Kevin McCarthy's proposed agenda for the House should the GOP take control in 2023.
"With this bold, conservative agenda in mind, I am asking for your support to be the next House Majority Leader. The American people deserve a House of Representatives that can move the agenda that was promised to them on the campaign trail," he added. "As your Majority Leader, I will work relentlessly to usher our vision through the House and show the country how conservative ideas can solve the problems that families are facing."
Scalise, the No. 2 House GOP whip, also backed House Minority Leader Rep. Kevin McCarthy (R-CA) for speaker, citing his record of consensus-building within the GOP ranks.
It's time for a change in the House of Representatives, and that starts with a new Speaker of the House. Nancy Pelosi has been in control for far too long, and it's time to let someone else lead the charge. Enter Kevin McCarthy – the top Republican in Congress has officially announced his candidacy to replace Pelosi as Speaker. And with Republicans ready to regain power in the House, now is our chance to make a change and truly represent the American people. We need a fresh face leading us, and McCarthy is just the person to shake things up and bring back some much-needed Republican power in Congress. It's time Pelosi gets out of the way and let's usher in a new era of leadership.