A December firearms auction sold Theodore Roosevelt's Smith & Wesson New Model No. 3 Single-Action Revolver for $910,625.
At its Premiere Firearms Auction on Dec. 9-11, Rock Island Auction Company (RIAC) auctioned off the gun, as reported by the Daily Caller.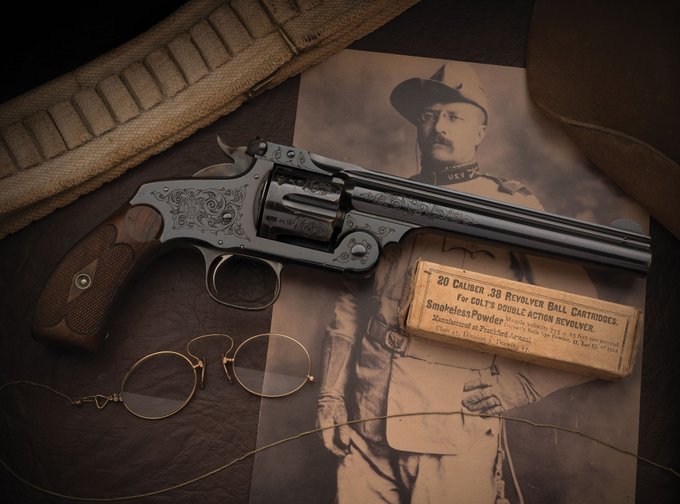 According to the pre-auction estimate, the revolver's value should fall between $800,000 and $1.4 million based on another Rock Island auction that sold Roosevelt's Colt Single-Action Army Revolver for the latter price in December 2020.
According to the RIAC's listing, the Smith & Wesson revolver comes with a factory letter confirming its shipment to Roosevelt.
Roosevelt's revolver was the auction's marquee item, according to RIAC Interactive Production Manager Joel Kolander. A bidding war between two attendees led to the sale within the first hour of Friday's auction.
Here's the moment it was officially auctioned off:
On May 12, 1898, the Smith & Wesson was shipped to then-Lt. Col. Roosevelt, the same day he departed for San Antonio to train the famed Spanish-American War cavalry unit, the Rough Riders.
Because Roosevelt placed it by his bedside every night in the White House, the gun was known as his "nightstand gun," according to the Firearm Blog.
In regards to the sale of the gun, RIAC President Kevin Hogan said in a press release, "This is a crown jewel in fine arms collecting. Not only is it a rare chance to own a presidential firearm, but of a president who embodied the spirit of a nation. You don't need to look further than Mt. Rushmore to understand his significance."
It is simply extraordinary that Theodore Roosevelt's amazing piece of American history was snatched up at a December firearms auction for an astounding $910,625. This incredible Smith & Wesson New Model No. 3 Single-Action Revolver comes with a factory letter confirming its delivery to the late President himself in 1912 and is known as his "nightstand gun" due to its lying post by his bedside in the White House every night. Congratulations to the fortunate buyer – while they pay homage to its remarkable past, we hope that this amazing piece of history is taken care of for many more years to come.