TikTok, the popular Chinese video app, was banned from all House of Representatives-managed devices, mimicking a law that will soon ban TikTok from U.S. government devices.
According to a message to House members and staffers by the House's Chief Administrative Officer (CAO), the app is high risk due to a number of security issues and must be deleted from all House-managed devices. The message to staff stated that anyone with TikTok on their device would be contacted about removing it. Future downloads of the app are also prohibited.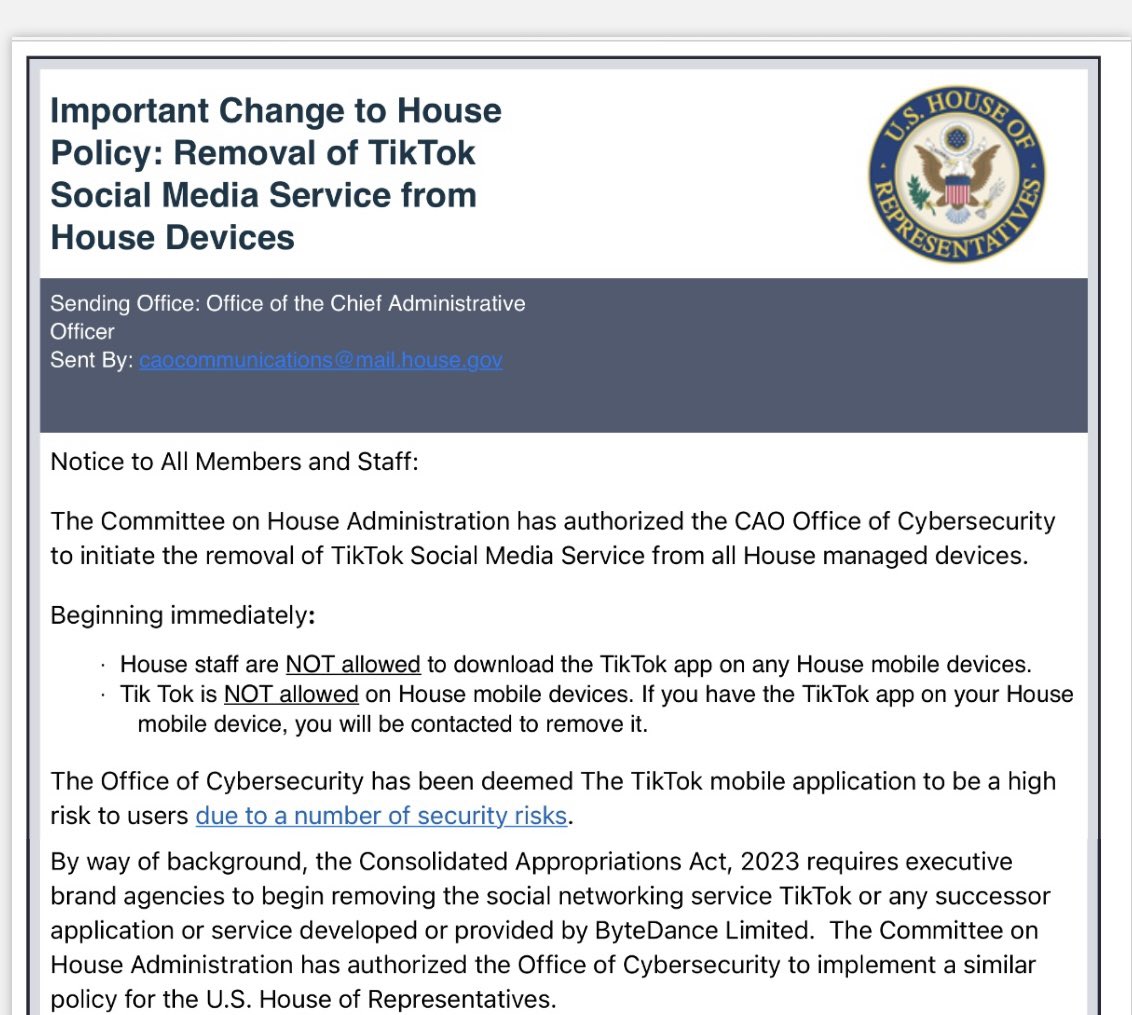 State governments have taken a series of steps to ban TikTok, owned by Beijing-based ByteDance Ltd, from government devices. Nineteen states have at least partially blocked the app from state-managed devices because they are concerned the Chinese government might use it to spy on Americans.
A provision in the $1.66 trillion omnibus spending bill passed last week to fund the U.S. government through September 30, 2023, bans the app from federally managed devices, and will go into effect once President Joe Biden signs it into law.
Legislators have also proposed banning the app nationwide.
Texas Congressman Dan Crenshaw reacted to the new law, writing on Twitter, "It's been a long time coming, but the House of Representatives finally banned TikTok from government devices. By using TikTok, you're feeding data to train Chinese programs that will be used for their authoritarian, inhumane purposes."
This latest ban follows hot on the heels of other state and federal governments' ban due to national security risks associated with the app. Concerning for many, there is a fear that China could use the app to spy on Americans and steal data from users who have TikTok accounts. As such, nineteen states have already partially embargoed it, while some legislators are even considering an outright ban nationwide – leaving us no choice but to accept these latest developments and take action to help promote trustworthy American-owned social media platforms as an alternative.