South Dakota Gov. Kristi Noem received a letter Thursday from the National Park Service rejecting her Independence Day fireworks request.
According to the Daily Caller, Michelle Wheatley, the Superintendent of Mount Rushmore National Memorial, sent the letter to Wanda Goodman, a bureaucrat at the South Dakota Department of Tourism. It is mentioned in Wheatley's letter that local tribes consider fireworks to be an "adverse effect" on their traditional cultural views.
As a result, the National Parks Service has denied a permit for an Independence Day celebration at the American landmark.
On Thursday, South Dakota Republican Gov. Kristi Noem announced the rejection on Twitter.
In response to Governor Noem's post about the firework show being rejected by Joe Biden, President Trump commented on the matter, writing on Truth Social, "But I made this incredible event happen, and was there to celebrate with the great people of South Dakota, and America. Ridiculous that it is no longer allowed. So great for USA spirit. As President, it will SOON happen again. I Love Mount Rushmore!"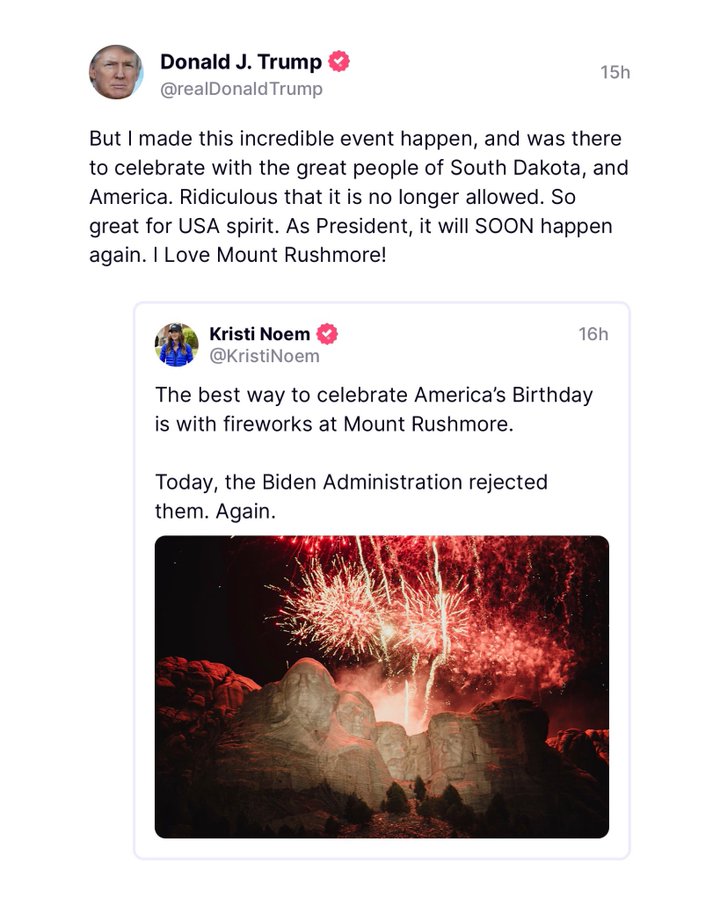 After fireworks were banned in 2009 because of wildfire and pollution risks, President Trump helped bring them back.
It is laughable – no, it's unreal – that the National Park Service rejected the 4th of July fireworks proposal for Mount Rushmore. The decision to nix the very patriotic holiday tradition is unbelievable for millions of people who are proud to call themselves Americans. The move by the Park Service was made as a result of local tribes' objections that loud fireworks would create an "adverse effect" on their traditional cultural views. This latest woke agenda move has come at the expense of patriotism and showing respect to an important American holiday.