There is a $100 entry fee to socialist Sen. Bernie Sanders' (I-VT) anti-capitalist event on Ticketmaster.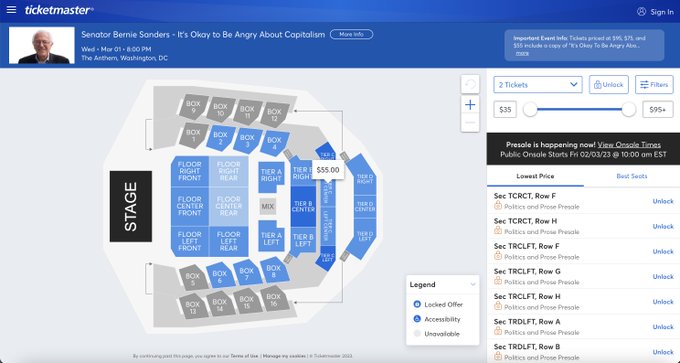 Despite being titled "It's Okay to be Angry About Capitalism," the event does not seem angry with capitalism, since it charges $95 plus fees for a front-row seat and also uses Ticketmaster, which has been investigated for antitrust violations by the Justice Department, according to Breitbart.
On Twitter, Greg Price noticed the hypocrisy in the tickets being sold on Ticketmaster, tweeting, "He could've AT LEAST not used Ticketmaster, one of the world's worst corporate monopolies, to make the whole thing less ironic."
Other Twitter users also laughed at the blatant hypocrisy.
One person added, "Good ol' Bernie Sanders is stomping out capitalism one sale at a time!"
And another asked, "How much is Bernie worth? What is his annual salary again? FOR GOODNESS SAKE!!"
In regards to his views on wealth accumulation, Sanders is no stranger to accusations of hypocrisy.
Although Sanders rails against large corporations and billionaires, he is a multimillionaire with three houses, according to former Democratic presidential candidate Mike Bloomberg.
Remember this moment?
Those who are shocked at Bernie Sander's latest blatant display of hypocrisy must be asking themselves, do people really believe this? Unfortunately, the answer is likely yes. For someone who rails against wealth and capitalism so regularly, it's unreal that Sanders would blatantly ignore his own beliefs to charge ticket fees for his anti-capitalism event. This echoes Sanders' grossly uninformed view on how a successful economy runs–clearly an uneducated opinion, considering he has no problem taking money from individuals to attend his rally! The absurdity of the situation speaks volumes about what Sanders actually believes in.