From Little Rock, Arkansas Governor Sarah Huckabee Sanders will deliver the GOP response to President Joe Biden's State of the Union address next Tuesday, February 7.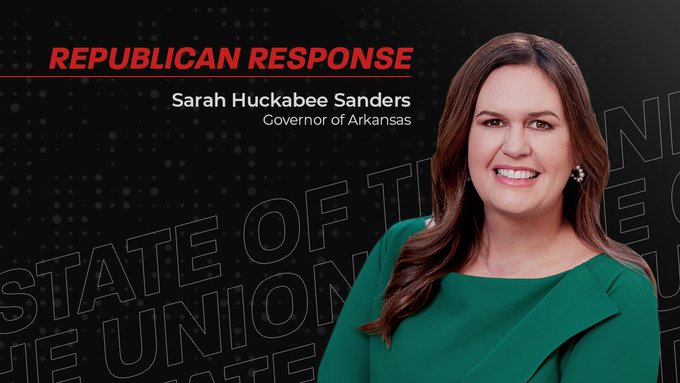 Sanders, the first female governor of Arkansas elected in November, formerly served as the White House press secretary in the Trump administration.
House Speaker Kevin McCarthy (R-CA) and Senate GOP Leader Mitch McConnell (R-KY) selected Huckabee Sanders to rebut Biden's second State of the Union address.
McCarthy said in a statement, "As the youngest governor in America, Sarah is fighting on behalf of parents, small businesses, and ordinary taxpayers. She is bringing new ideas for a changing future, while also applying the wisdom of the past, including from the leadership of her father, Mike. She is a servant-leader of true determination and conviction."
McCarthy added, "I'm thrilled Sarah will share her extraordinary story and bold vision for a better America on Tuesday. Everyone, including President Biden, should listen carefully."
And Leader McConnell added, "Americans deserve better than runaway inflation, surging crime, open borders, and failing schools. I'm excited the nation will hear from Gov. Sanders after the State of the Union on Tuesday. A sharp contrast with this exhausted, failing Administration."
Republicans made the perfect choice in selecting Governor Sarah Huckabee Sanders to deliver their message in response to President Joe Biden's State of the Union address. Huckabee Sanders – who is an absolute amazing conservative leader – serves with true determination and conviction and will ensure her words carry great weight. We can't wait to hear what she has to say – we know it's going to be something special.