Federal Trade Commission (FTC) Commissioner Christine Wilson resigned Tuesday from the FTC after writing a column in the Wall Street Journal to say she could not support Biden-appointed Chair Lina Khan's "abuses of government power."
During Khan's tenure as chair, Republicans began voicing concerns about her alleged exclusion of Republican colleagues from antitrust enforcement aspects shortly after her appointment in June 2021. Wilson was among those critical of Khan's approach and testified before the Senate in September 2021, accusing Khan of tearing down "the FTC's rich bipartisan tradition."
It became difficult for Wilson to push back on Khan's abuses, because she "consolidated power within the Office of the Chairman" and was enabled by "senior FTC officials."
In her column, Wilson writes that 87% of surveyed FTC employees "believe that senior agency officials maintain high standards of honesty and integrity" under Trump appointees in 2020, while only 49% do so now. In her view, their discomfort has less to do with Khan's policies than with the methods she uses to accomplish her goals.
Wilson wrote, "I disagree with Ms. Khan's policy goals but understand that elections have consequences. My fundamental concern with her leadership of the commission pertains to her willful disregard of congressionally imposed limits on agency jurisdiction, her defiance of legal precedent, and her abuse of power to achieve desired outcomes."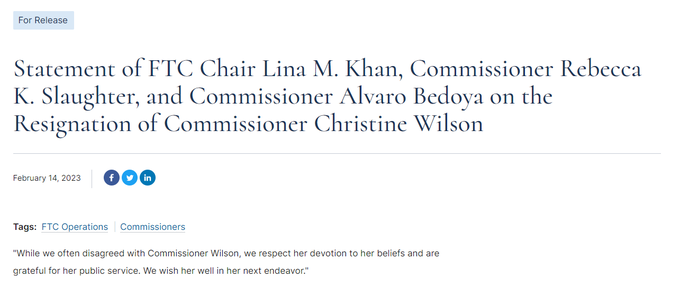 The allegations against Khan were not addressed by the FTC in its response to Wilson's resignation.
"While we often disagreed with Commissioner Wilson, we respect her devotion to her beliefs and are grateful for her public service. We wish her well in her next endeavor," the FTC stated.
As noted by Axios, the resignation of Wilson will only strengthen arguments that the FTC has become an extremist political organization.
What is happening behind the scenes of the Federal Trade Commission have now come to light, and we the people demand answers. Public transparency on the issue is of utmost importance, and it has become increasingly clear that the FTC has been hijacked by the left's political agenda. The abrupt resignation of Commissioner Christine Wilson on Tuesday serves as an alarming warning to the public of a 'hostile takeover' by the left, as it appears that with Wilson unable to push back on Chair Lina Khan's abuses stemming from her consolidation of power, these tactics may be running rampant at the FTC. It is now time for answers and immediate action in order to combat this overt government interference.