As Joe Biden sets his sights on a second term, his record on the economy is coming under sharp scrutiny. One conservative group has put up a massive billboard in Times Square highlighting what they say are the president's many failures. Biden and his team might have hoped for a warmer reception in the media, but this is a stark reminder that they won't be able to ignore the elephant in the room – a sluggish economy that many experts blame squarely on the administration's policies.
This just in: Job Creators Network (JCN) has made a bold statement with their latest billboard in Times Square. This move comes just as President Joe Biden announced his reelection bid. With a message that reads, "Hey Joe, If Only There Were a Little Blue Pill For Your Performance Issues, America can't afford four more years", the JCN billboard blasts the President for his poor economic performance. The billboard itself shows how real wages have plummeted since Biden took office.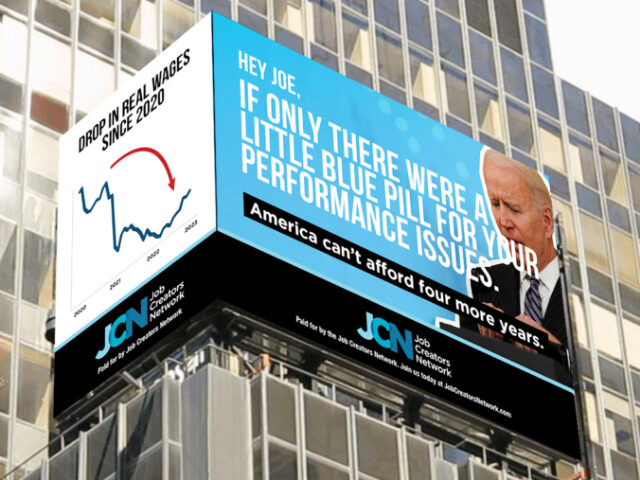 Lawmakers, economists, and a majority of Americans have all criticized Biden's policies as reckless and unsustainable. Now, JCN has stepped into the spotlight to further bring attention to their cause.
According to Alfredo Ortiz, JCN's President and CEO, the national debt has ballooned by roughly $3.7 trillion in just two years, due to Biden's overspending. Furthermore, Biden's proposed 2024 budget, which could cost taxpayers nearly $7 trillion, has drawn even more criticism.
The JCN billboard is a bold move that has garnered a lot of attention, and it's no wonder why. Americans have been struggling with an economic recession since the onset of the COVID-19 pandemic. Biden entered the White House promising to make things better, but two years in, his policies have only worsened the situation. Real wages have been declining, and the national debt has worsened.
JCN has been vocal about the need for fiscal responsibility in government for a while, and with this billboard, they're urging Americans to reject Biden's reelection bid. According to Ortiz, "Americans cannot afford four more years of President Biden. After only two, they have seen their real wages steadily decline due to Biden's reckless spending."
The JCN billboard's message is clear: the American economy is struggling under Biden's leadership, and Americans cannot afford four more years of his policies. With real wages declining and the national debt skyrocketing, JCN argues that the Biden administration is making things worse, not better, for Americans.
The JCN billboard is just one of many efforts being made by conservative organizations to call attention to Biden's economic performance. With midterms and the 2024 election on the horizon, it's clear that the economic policies of whoever holds the presidency matter more than ever.