Today, we're here to bring you the latest on House Committee on Homeland Security Chairman Mark Green's Border Reinforcement Act. In light of the record-breaking border crisis that emerged after President Joe Biden and Alejandro Mayorkas' refusal to enforce border laws and protect U.S. sovereignty, Green led Republican lawmakers on the committee in introducing a new bill to reinforce border security. Through this bill, the GOP aims to strengthen border policies, enhance surveillance technology, bolster border patrol agencies, and reinstate the border wall. This article will delve deep into the Border Reinforcement Act, the border crisis, and what it means for the future of border protection in America.
The Border Reinforcement Act of 2023, introduced by Congressman Green and his colleagues on the House Committee on Homeland Security, is a comprehensive plan to address the crisis created by President Biden and Secretary Mayorkas' policies.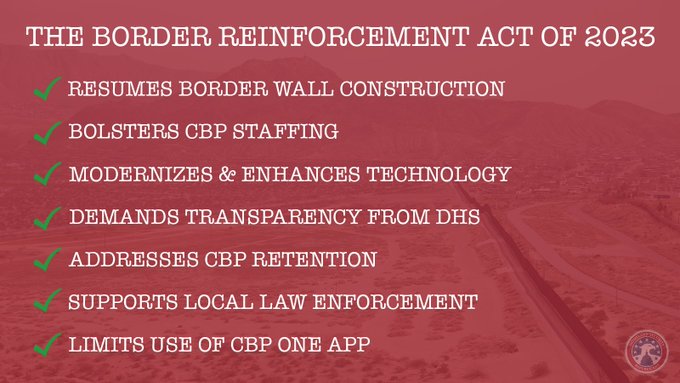 The legislation demands transparency from DHS, requiring them to report on illegal border crossings, apprehensions, and detentions. It ensures that CBP, state and local law enforcement have the infrastructure, personnel, and technology they need to secure our borders and protect our communities.
If signed into law, the legislation would require the U.S. Department of Homeland Security to implement several policies:
The Border Reinforcement Act will provide law enforcement agencies with the tools they need to disrupt and dismantle organized crime networks that are smuggling people and drugs across the border.
Through this bill, the Republicans are taking a strong stand in light of the failure by President Biden and Homeland Security Secretary Alejandro Mayorkas to enforce laws and secure our borders.
While the Biden administration has shown an unwillingness to address the crisis at the border, the Border Reinforcement Act will replace these failures by holding the DHS accountable, strengthening border security measures and prioritizing safety over politics. It is a commonsense solution to a problem that has been exacerbated by the current administration's refusal to take action. The proposed legislation aims to put the safety of America's communities first and hold the DHS accountable for their lack of transparency and action on the border security crisis. Americans from across the political spectrum have called for action to address these pressing issues, and the Border Reinforcement Act of 2023 is a significant step forward.