Exxon Mobil, the corporation hated by progressives, has become the first company to denounce the "net zero" claims of achieving carbon neutrality by 2050. The US supermajor rejected investor demands to report on the risks as it believes such claims are insidious and laughable. Exxon maintains that the prospect of the world achieving net-zero carbon emissions by 2050 is remote, and limiting energy production below consumption demand could lead to a spike in energy prices. Despite criticisms from the International Energy Agency (IEA) and proxy advisor Glass Lewis, Exxon argues that such a target is unrealistic and would cause a severe economic downturn.
In a world where political correctness and ESG hypocrisy dominate, it's refreshing to see a bold corporation speak the truth without fear of backlash from virtue signaling activists. Exxon Mobil, a company loathed by progressives, has done precisely that by disputing the improbable notion that "net zero" is a feasible target by 2050.
Recently, investors urged Exxon to disclose any possible risks to its business from limitations on greenhouse gas emissions and the potential of environmental disasters. In its response to proxy advisor Glass Lewis, Exxon pushed back, stating that the possibility of achieving net-zero emissions by 2050 is remote and should not be taken into consideration as part of the company's financial statements.
Glass Lewis supported a shareholder proposal requesting a report on the cost of abandoning projects. This proposal faces a shareholder vote on May 31. The initiative concluded that Exxon could face significant financial risks from a net-zero scenario. Still, Exxon disagreed, stating that the world is not on track to achieve net-zero emissions by 2050. Any limitations on energy production would lead to a spike in energy prices, as seen in Europe following oil sanctions against Russia over Ukraine.
Exxon's stance is more realistic than that of green activists, who seem to believe that the world can transition to green energy within the next 27 years, costing approximately $150 trillion, without any type of energy catastrophe.
The International Energy Agency's (IEA) 2050 net-zero emissions (NZE) scenario is at the center of the issue. The IEA envisions a path to limit the global temperature increase to 1.5 degrees Celsius. According to the NZE scenario, new oil exploration would have to stop in 2021, and nations would need to switch to renewable energy from fossil fuels, which is highly unlikely. Exxon heavily invests in new exploration to produce oil and gas for decades to come, which is vital for not sending the world back to the dark ages, as some at the World Economic Forum appear to aspire to accomplish.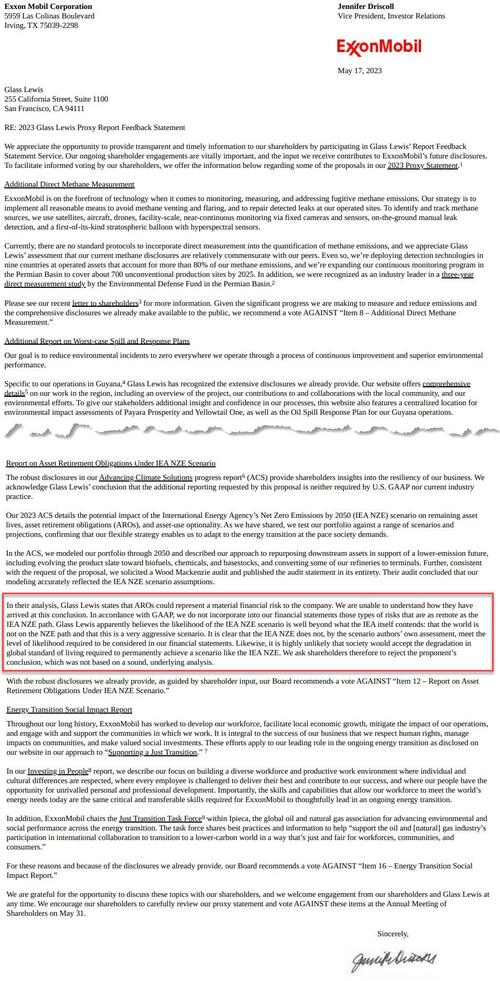 In response to the proposal, Exxon filed a statement with the US Securities and Exchange Commission on Wednesday, stating, "It is clear that the IEA NZE does not, by the scenario authors' estimates, meet the level of likelihood needed to be considered in our financial statements." Exxon further added that it was highly improbable that a solution like the IEA NZE would be accepted by society in terms of accepting a degraded global standard of living that it requires.
Exxon also rejected the woke proxy firm's recommendation to evaluate the impacts of a worst-case oil spill at its offshore Guyanese oil platforms. Exxon leads a group responsible for all of Guyana's offshore oil production and has advised against the proposal.
Perhaps instead of targeting companies like Exxon, which are doing their best to keep the US energy independent, the IEA should bring its message to downtown Beijing, where it will likely be more successful. Despite every effort by the current US president to drain the US Strategic Petroleum Reserve and make the country reliant on foreign energy sources again, some organizations are fighting to maintain the nation's energy autonomy, and they should be supported.
In a world dominated by suffocating snowflakery and ESG hypocrisy, Exxon Mobil, a company that isn't afraid to speak the truth, has become a beacon of hope. It is the first corporation to reject the insidious claims that "net zero" carbon emissions are achievable by 2050. The supermajor has received criticism from the International Energy Agency and proxy advisor Glass Lewis, but Exxon remains steadfast in its position against unrealistic targets. The world cannot transition to "green" energy without causing an energy cataclysm, and this is a fact that Exxon has accepted. It is time to reject the progressive agenda and recognize the reality of the situation.