The sad truth about our country's current state is that we have an 80-year-old president who can't seem to remember where he is more than half the time. The New York Times asked readers to weigh in on what kind of animal they believe President Joe Biden represents, and they were brutally honest. And the answers were alarming, to say the least.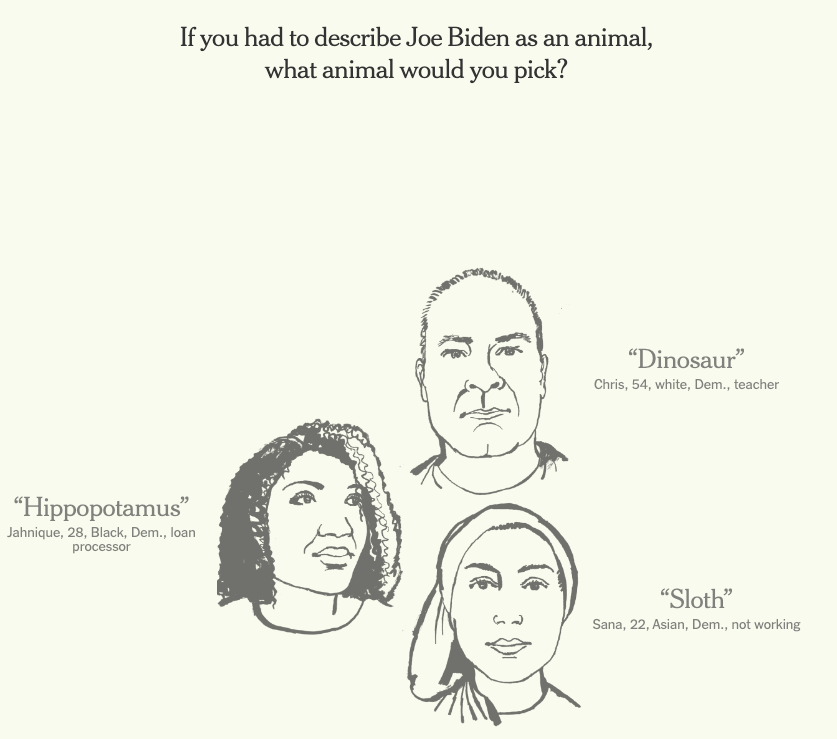 One reader likened Biden's speech to that of a camel, with its awkward and meandering movements. Others compared him to a sloth or a turtle because of his excruciatingly slow pace and lack of strength. And yet another compared him to a snail or goldfish due to his inability to stay focused on anything.
The fact that the most liberal outlets have published graphics showing not a single reader thinking Biden shares any shared values or qualities as a strong leader is a damning indictment. The most shocking revelation, however, is that 54.4 percent of voters disapprove of Biden's job as president, according to a recent FiveThirtyEight poll. This only proves that the American people are starting to recognize Biden's incompetence as a leader.
It's alarming to think that, as the leader of the free world, Biden's forgetfulness and lack of attention span could lead to disastrous consequences. What if he forgets crucial information during a national security briefing? What if he can't remember the name of a key ally during a meeting?
It's clear that the Democrats were desperate to get Biden into power, even though he had been a failed senator during his long career in Congress and an underwhelming Vice President under Obama. This does not bode well for the country, especially with the impending threat of China and Russia looming on the horizon.
It's time to face the facts: Biden is not a strong leader, nor does he have the ability to lead during a time of crisis. The party elites may have put him into power, but it is the American people who will pay the price for his incompetence. We need a leader who can stand up to the challenges of the present and the future, not someone who can barely remember what day it is.