During remarks at the White House on Tuesday, the president was pressed on the border crisis.
According to RedState News, rather than providing an answer to the ongoing humanitarian crisis, he chose to respond with this nonsensical retort:
RedState notes that Biden uses this strategy whenever he faces an issue that is clearly his fault. He simply pretends it doesn't exist and tries to portray anyone who disagrees as stupid.
When asked what he thought of a report saying Governor DeSantis was sending illegal immigrants to Delaware, Biden laughed off the question, saying, "He should come visit. We have a beautiful shoreline."
This all comes after Governor DeSantis sent illegal migrants to Martha's Vineyard, which is controlled by Democrats, in order to bring awareness to the border crisis.
Now, as reported by Townhall, there has been a class action lawsuit filed on behalf of the migrants flown to Martha's Vineyard by immigration lawyers and activists.
The lawsuit states that the flights were "a premeditated, fraudulent, and illegal scheme centered on exploiting [the migrants] for the sole purpose of advancing their own personal, financial and political interests."
However, DeSantis' office responded to the class action lawsuit by showing the migrants signed consent forms.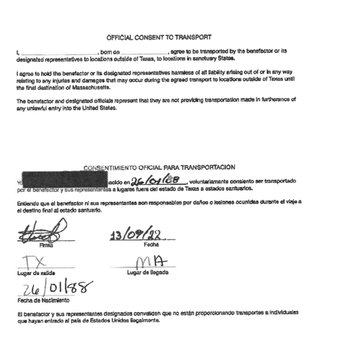 An English and Spanish consent form was provided to Townhall showing the information given to the person who signed it. It is obvious that the migrants knew they were going to be taken to Massachusetts after leaving Texas.
"The transportation of the immigrants to Martha's Vineyard was done on a voluntary basis. The immigrants were homeless, hungry, and abandoned – and these activists didn't care about them then," DeSantis's office said in a statement. "Florida's program gave them a fresh start in a sanctuary state and these individuals opted to take advantage of chartered flights to Massachusetts. It was disappointing that Martha's Vineyard called in the Massachusetts National Guard to bus them away from the island within 48 hours."