New city same policies, small businesses are being brought to their knees by criminals to permanently close their doors. Distancing many from the American Dream. It's no secret that small businesses are struggling these days. But what you may not know is that some of these businesses are being strong-armed by criminals – with the help of the government – into permanently closing their doors. Here is the story of one business owner who was forced to make the difficult decision to close her shop after years of hard work.
According to The Western Journal. The situation in Portland has become so bad that one small, locally-owned business called Rains PDX recently went viral after posting an ominous, yet eye-opening sign on its front door that read, in part, "Our city is in peril," while announcing its permanent closure due to the crime crisis.
"The owner at Rains tells me after five break-ins in about three weeks, she made the sudden decision to permanently close. Staff here are putting pressure on the city to look after small businesses dealing with ongoing challenges with crime," KATU's Megan Allison tweeted, along with a picture of the signage.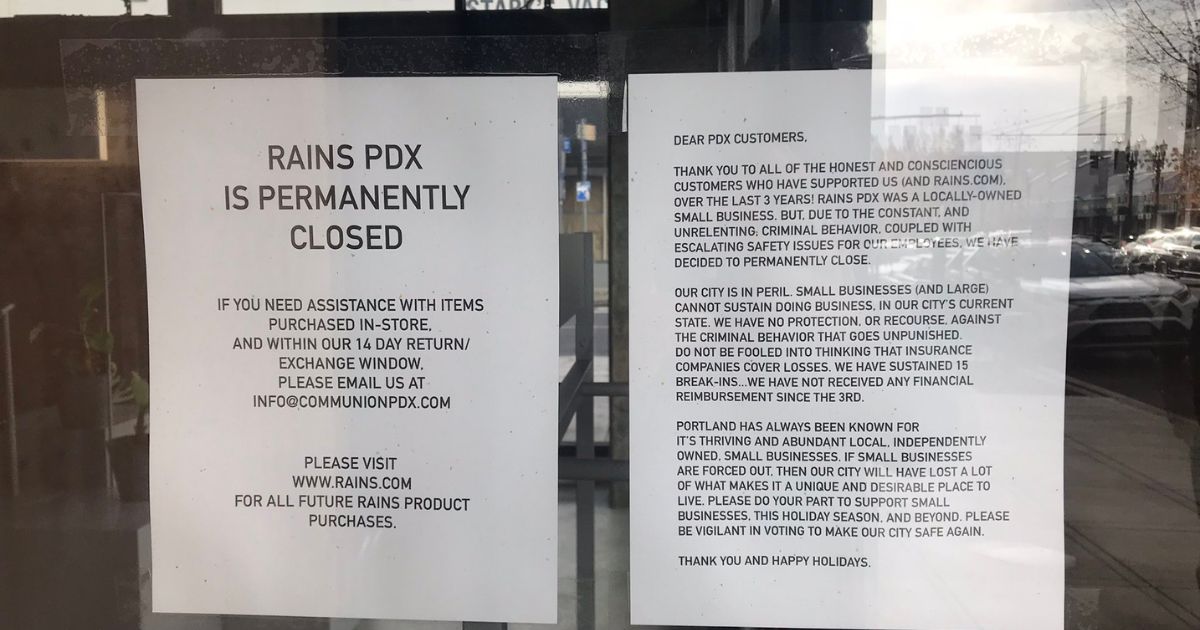 After such a high number of break-ins for a business that had been open since 2019, anyone would be discouraged to remain open for another day.
Breitbart reported, when the shop suffered a break-in last month, KATU contacted Mayor Ted Wheeler (D) and officials said they were trying to increase funding for business repair grants.
In response, Landolfo said, "Paying for glass that's great, but that is so surface and does nothing for the root cause of the problem, so it's never going to change."
These cities seem to have a consistent theme; they want to eliminate small businesses and sideline competing juggernauts in favor of those that are easier to control. This could explain why there are so many policies enacted to encourage criminals, such as eliminating bail requirements or refusing to increase police presence in high crime areas. And this is how small business owners like Marcy Landolfo, Rain PDX, find themselves fighting an uphill battle with seemingly insurmountable odds against them. It's an unfortunate reality for small business owners in Democrat-run cities, and if these policies remain unchecked, small business owners will continue to suffer at the hands of their mayors who prefer juggernaut monopolies over small businesses.