Following talks of filing for bankruptcy, Bed Bath & Beyond announced Tuesday that hundreds of stores would close.
According to USA Today, in addition to the 56 stores closed in September, the retailer will close 62 Bed Bath & Beyond stores, bringing the total to 120. As reported in its third-quarter fiscal report, the company is on track to cut $500 million in costs on $393 million in losses. Net sales declined 33% to $1.26 billion over the prior year.
Net sales were down from last year due to "lower customer traffic and reduced inventory availability, among other factors," the company said in a public notice filed last week with the SEC.
There is "substantial doubt" about the company's ability to continue operating on its own, according to the retailer.
This all comes after Bed, Bath & Beyond stopped selling MyPillow products in January 2021.
As noted by the Conservative Brief, following the suspension of sale of Mike Lindell's MyPillow products, conservatives secretly began boycotting the store.
Now, as the company is sinking fast, conservatives are speaking out about their collective plan that brought the retailer down.
One person revealed on Twitter, "I used to like Bed Bath & Beyond but, I haven't set foot inside one of their stores since they stabbed Mypillow in the back. I never will either, unless they bring back Mypillow."
Another said, "I haven't shopped there since they discontinued MyPillow. I ordered my sheets direct. Actually I need to order a second set of sheets. I'll take the inconvenience and shop direct from Mike Lindell."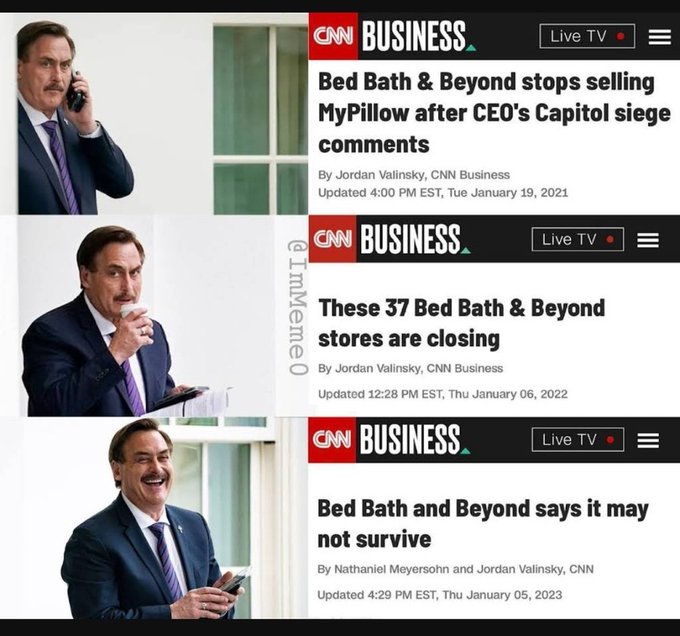 And another posted this meme showing Lindell's reaction to the downfall of Bed Bath and Beyond.
Bed Bath & Beyond's go-woke-go-broke strategy encountered the full force of conservative backlash and the consequences are drastic. Conservatives conducted a boycott of Bed Bath and Beyond shortly after they stopped selling Mike Lindell's MyPillow products in January 2021 – and it turned out to be deadly for the failing retailer. Consequently, their go-woke go-broke philosophy has resulted in hundreds of store closures and potential bankruptcy filings. This serves as an important lesson that investors should never underestimate the power of a conservative boycott and should avoid catering to the liberal left!