Texas Governor Greg Abbott's relentless migrant relocations to sanctuary cities have left Chicago overwhelmed and vulnerable. Chicago Mayor Lori Lightfoot has sent a letter to Abbott, calling on him to halt the transport of illegal migrants to the Windy City. This comes after Abbott announced that he will continue sending migrant buses to sanctuary cities, including New York City and Washington, D.C. until the federal government secures the border.
Lightfoot wrote in her letter that the city of Chicago lacks the necessary resources and shelters to accommodate further migrant relocations. She also urged Abbott to reconsider "this dangerous and inhumane action."
In her letter to Abbott, Lightfoot also made it clear that she is willing to work with the governor to find a solution to the crisis at the border. She urged the federal government to withhold all FEMA funding for Texas if buses of migrants continue to be sent to Chicago, but noted that she "would rather work with you than against you."
Lightfoot further echoed her cause on CNN Monday morning.
Abbott responded to Lori Lightfoot's request to stop transporting migrants to her city by advising her to call on President Joe Biden to secure the border. The Governor's letter to Mayor Lightfoot stresses the importance of Texas' busing strategy, which provides vital assistance to small border communities that are struggling to cope with the current border crisis.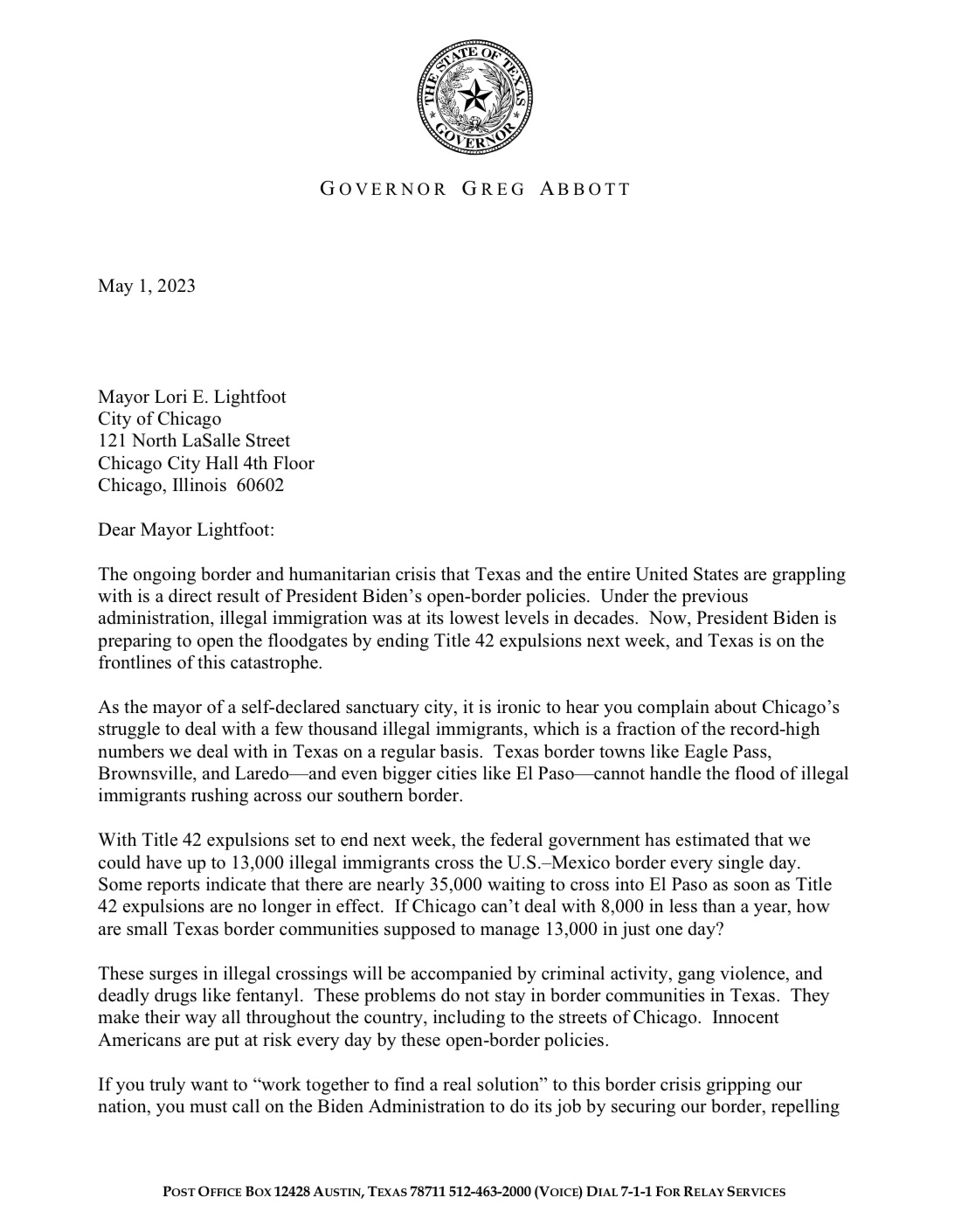 Abbott wrote in part, "As the mayor of a self-declared sanctuary city, it is ironic to hear you complain about Chicago's struggle to deal with a few thousand illegal immigrants, which is a fraction of the record-high numbers we deal with in Texas on a regular basis."
The Governor's message highlights the urgent need for action from the federal government, as the situation continues to worsen. Texas' efforts to address this issue are essential in providing relief to border communities, and the Governor suggests that the Mayor should join him in calling for a more robust national response.
The controversy surrounding Abbott's decision underscores the complexity of the immigration issue in the country. As the federal government struggles to craft a comprehensive approach, states and cities are also left balancing their humanitarian obligations with their fiscal and political concerns. Abbott's move is completely understandable given the pressures on Texas, and it is hypocritical of sanctuary cities to all of a sudden want to turn migrants away. No state should be able to bear the brunt of the federal government's inability to address the root causes of immigration and secure the nation's borders, however, those that talk the talk should walk the walk.