As the pandemic ravaged the world, the American populace had to make tough decisions, including how to ensure that children continued to receive an education. Unfortunately, the American Federation of Teachers' president Randi Weingarten actively worked against the reopening of school buildings, and Virginia Governor Glenn Youngkin has been keen to remind everyone of this terrible betrayal. The damage done by the forced closure of schools will last for years, with dire consequences for children's mental health and academic achievement. It is time for the truth to be heard: Weingarten and the teachers union wanted the schools closed, and they must now be held accountable for the terrible damage imposed on America's youth.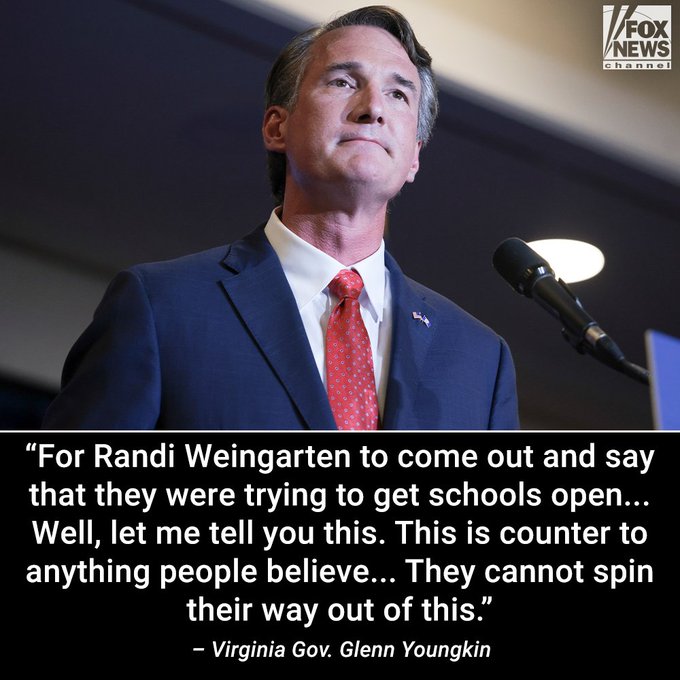 Amidst an ongoing debate over the effect school closures had on children during the COVID-19 pandemic, Virginia Governor Glenn Youngkin has openly criticized American Federation of Teachers President Randi Weingarten for her alleged role in the matter. In a recent interview on FOX Business, Youngkin accused Weingarten and her union of delaying school openings. According to Youngkin, Weingarten falsely claimed that the union was "trying to get schools open" despite clear evidence to the contrary.
Weingarten recently testified before the Select Subcommittee on the Coronavirus Pandemic to address her union's role in influencing public policy on school lockdowns. During her testimony, she argued that her union worked "hard' to get schools open.
However, critics like Youngkin believe that the teachers' union wanted the schools closed and are now trying to spin the situation to avoid blame.
According to Youngkin, Weingarten's assertion that they were trying to get schools open is counter to what most people believe. He argued that the union's attempts to keep schools shut meant that remote learning had a devastating impact on children both academically and mentally.
This seems to be supported by data released by the National Center for Education Statistics, which revealed that 70% of US public schools reported an increase in students seeking mental health services since the start of the pandemic.
Furthermore, a study by conservative think tank Just Facts shows that the mental stressors brought about by school closures are set to destroy seven times more years of life than lockdowns saved. In light of this, it is worrying to note that math scores saw their largest decreases ever in the aftermath of COVID, while reading scores dropped to levels not seen since 1992 for fourth and eighth graders across the country.
Given the data and evidence presented, it is clear that school closures have had a significant impact on children's education, mental health, and future earnings potential. While the reasons behind school closures are complex and multifaceted, it is vital to recognize the devastating impact they have had and work towards finding solutions that prioritize the needs of students.
The pandemic no doubt exposed the flaws and weaknesses inherent in America's educational system, particularly with regards to the undue influence wielded by powerful teachers' unions. Randi Weingarten and the American Federation of Teachers should be ashamed of their role in the closure of school buildings, as they knowingly participated in an action that will have long-lasting negative effects for the most vulnerable in our society. It is a relief knowing that leaders like Governor Youngkin step up and protect the rights of children because the future of our nation depends on it.