As the Biden administration continues to grapple with economic challenges ranging from inflation to a looming debt ceiling, White House Press Secretary Karine Jean-Pierre is pointing fingers at House Republicans and their push for meaningful spending reforms. However, recent data from the Bureau of Labor Statistics show that Americans are feeling the financial strain of rising prices, with real average weekly earnings experiencing a year-over-year decline. Despite this reality, the Biden administration continues to mislead the public about its so-called work in lowering costs.
This week, White House Press Secretary Karine Jean-Pierre made the false claim that House Republicans' efforts to increase the debt ceiling while also implementing meaningful spending reforms pose the "single biggest threat" to the U.S. economy.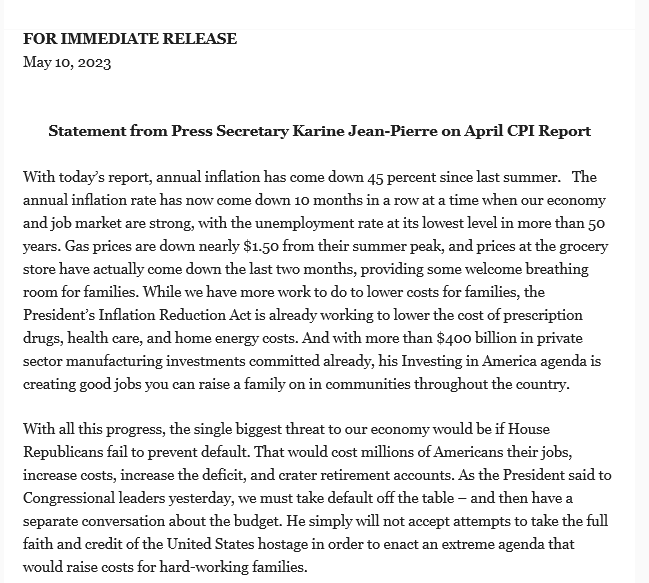 In a statement, Jean-Pierre said, "the single biggest threat to our economy would be if House Republicans fail to prevent default."
This statement comes following President Biden's meeting with senior Democratic and Republican lawmakers to negotiate an increase in the debt ceiling, which will prevent the federal government from spending beyond a predetermined national debt limit.
Jean-Pierre's comments are a clear attempt to push an extreme progressive agenda while misrepresenting the economic reality. Debating meaningful reforms is essential for the economic health of our nation. We cannot continue spending money we do not have, nor should we allow our government to become a borrowing behemoth. If we don't agree on balanced spending reforms now, we will be subject to higher tax rates in the future, further hindering our economy's growth.
Treasury Secretary Janet Yellen's warning that the federal government would default unless the debt ceiling is raised by June 1st is a sobering revelation. The United States cannot become a nation that defaults on its obligations. Doing so would undoubtedly cause a severe economic recession.
The Biden administration has a lot of work to do to improve the current state of our economy. The national debt has exceeded $31.7 trillion, posing a considerable financial risk to our nation and hindering economic growth. While the President held meetings with senior lawmakers from both parties on Tuesday, the results were underwhelming. House Speaker Kevin McCarthy labeled the discussions as having had no progress.
Meanwhile, Jean-Pierre's claims that the Biden administration has been successful in decreasing inflation is at best a casual fabrication. The data from the Bureau of Labor Statistics shows that inflation has increased 4.9% year-over-year as of last month, posing a significant challenge to American households. Real weekly earnings have meanwhile decreased, hindering purchasing power for Americans, particularly low-income earners.
The truth is that many Americans are struggling to make ends meet, with low-income earners being those most likely to feel the effects of the current economic hardship. 50% of respondents in a February survey from Gallup stated that they are worse off financially compared to a year ago, painting a bleak picture of the nation's finances.
In the face of rising inflation and strained household budgets, Americans are understandably concerned about their financial futures. However, the Biden administration seems more interested in political grandstanding than in finding real solutions. White House Press Secretary Karine Jean-Pierre's recent assertion that House Republicans are the "single biggest threat" to the US economy is just the latest example of this misplaced focus. With the debt ceiling looming and economic uncertainties continuing to mount, Americans deserve real solutions from their elected officials, not just empty rhetoric. Only time will tell whether those in power are able to deliver.