CNN's left-leaning bias and hypocrisy have long been a source of frustration for conservatives. So when the network gave former President Trump a platform to connect directly with voters during a town hall, Democrats were undoubtedly hoping for a different outcome. However, much to their dismay, the 45th president came out on top, commanding the event and causing CNN's ratings to soar. Now, Trump's 2024 campaign has rolled out new merchandise with the slogan "This Is TNN," referencing the idea that CNN should be renamed the "Trump News Network" after the successful town hall appearance.
CNN, known for their left-leaning bias, faced immense backlash for having the audacity to host former President Trump in a town hall. However, much to their dismay, Trump's successful appearance resulted in taunts aimed at the network and the release of new Trump campaign merchandise.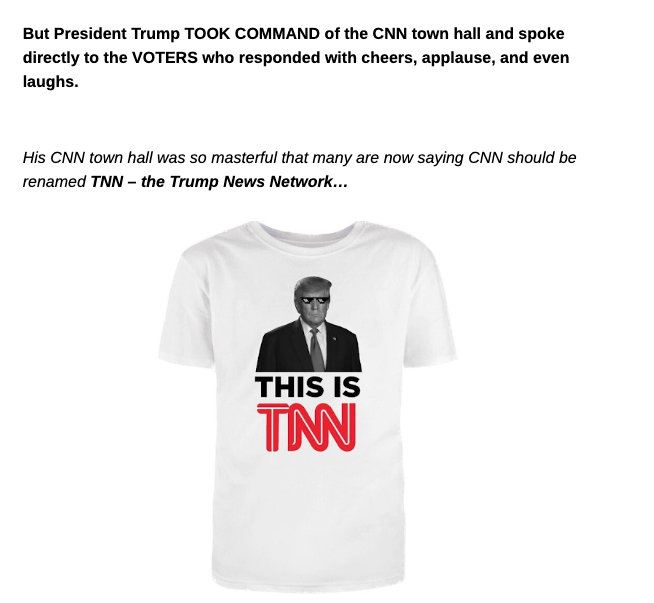 Trump's 2024 campaign recently launched an exclusive t-shirt mocking CNN, with the words "This Is TNN" and an image of the former president sporting sunglasses on the front. CNN, whose crowd cheered and applauded in support of Trump during his appearance, was suggested to be renamed the Trump News Network after the masterful performance given by the former president.
Trump supporters can obtain the shirt by making a $47 donation to his 2024 campaign.
The Trump campaign praised the CNN event, calling it a major success and stating that Democrats were hoping CNN would attempt to trap Trump and destroy his presidential campaign on live TV during the town hall. However, the former president rose to the occasion and "TOOK COMMAND" of the event, speaking directly to the voters who responded with cheers, applause, and even laughs, an emailed statement to Trump supporters read.
Despite the network receiving criticism for giving Trump a platform to "lie," the event saw a massive increase in viewership with over 3.3 million tuning in – three times more than the average viewership CNN receives on any given night.
The liberal media must come to terms with the fact that they cannot silence the voices of millions of Americans who wholeheartedly support our great President Trump. His successful town hall appearance and the overwhelming support from his base prove that his message is more important now than ever before. We can only hope that CNN and other left-leaning networks will learn from this experience and allow for a balanced dialogue that includes all voices and perspectives. Until then, we will proudly display our "This Is TNN" t-shirts and continue to support President Trump as he fights for the values and principles that make America great.