Democrats in cities across America have been lax in prosecuting criminal suspects and imposing harsher punishments on those who are convicted, resulting in devastating and deadly outcomes. Republicans are standing up to those across the aisle imposing lawlessness on communities in a trend that shows no signs of slowing down.
As a result, according to Townhall, Senators Marsha Blackburn and Bill Hagerty of Tennessee are leading the Senate GOP charge against Biden and his administration for allowing crime to run rampant and demanding action now against violence plaguing American communities.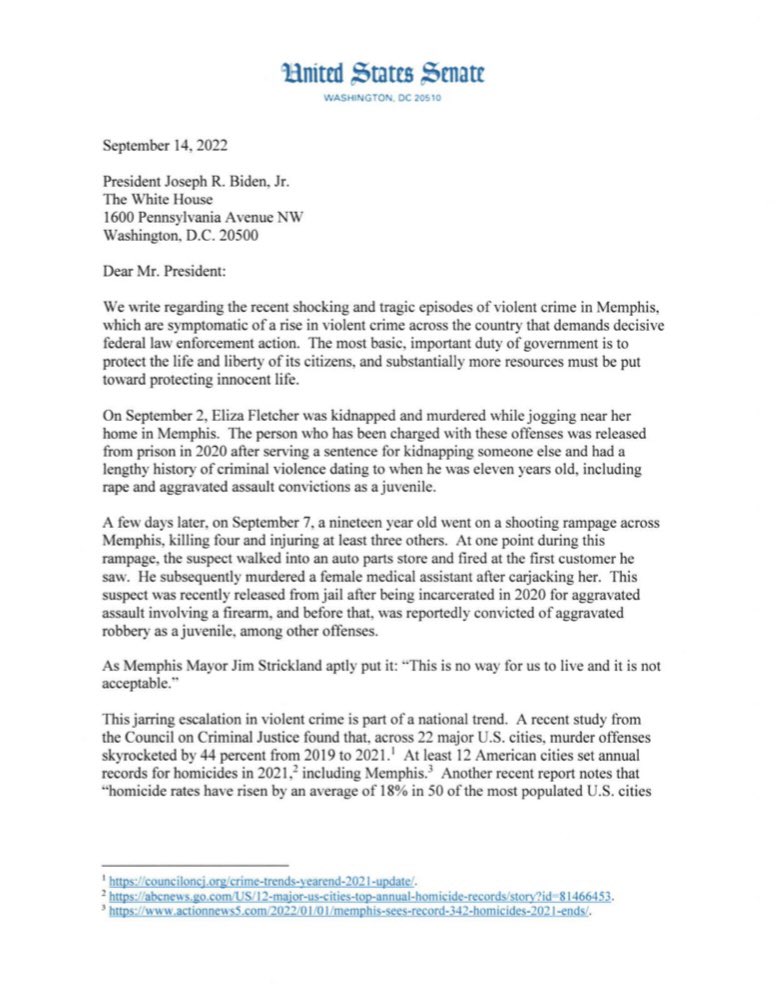 Senators Blackburn and Hagerty sent a joint letter to President Joe Biden on Wednesday demanding "substantially more resources must be put toward protecting innocent life, invoking recent tragedies in Memphis that highlight the ongoing problem of soft-on-crime leaders."
In Memphis on september 2nd, a woman was kidnaped and murdered while jogging near her home and just 5 days later, a nineteen year old went on a shooting rampage across the city, killing four and injuring at least three others.
Blackburn and Hagerty's home state are just two examples of a devastating trend that has weakened communities while criminals are treated as victims and their victims receive little, if any, justice.
Another example of a state where crime has been out of control is Illinois.
As we reported yesterday, Illinois Gov. JB Pritzker signed into law the Illinois Safety, Accountability, Fairness and Equity-Today, known as the (SAFE-T) Act. It goes into effect on January 1st of 2023. This act, sold as Justice reform, has real costs for you and your family, especially if it goes nationwide since Illinois is the first state to enact such radical lefist woke legislation. Among the most notable features of the bill is the elimination of cash bail, a part of the legislation many in law enforcement argued would put the public and law enforcement at risk.
Lawmakers across the state are speaking out against the bill, including Orland Park Keith Pekau.