At its first-ever "inclusion" summit, The US Military has ordered all cadets to stop using certain words and phrases that are considered to be "trigger words." The list of trigger words includes 'mom,' and 'dad', as well as 'girlfriend' and 'boyfriend.' The military is concerned that these words may provoke Trans Cadets into negative reactions. Some people are outraged by this decision, calling it "destructive". Others argue that the military is simply trying to create a safe and inclusive environment for all of its members.
FOX News Digital obtained screenshots from the seminar that show that Air Force training officials are asking recruits to use generic terms like 'partner' instead of 'boyfriend' or 'girlfriend,' and 'parent' or 'parents' instead of 'mom' and 'dad.'
FOX also reported that as part of the diversity and inclusion training, cadets also have to write as many "G-Animals" and animals starting with the letter "G" as they can in one minute.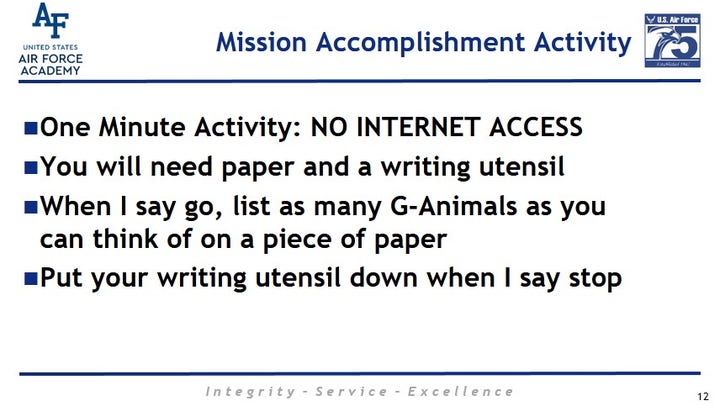 At the end of the slideshow presentation, cadets are informed about additional D&I resources on the academy's Colorado Springs campus, including a "D&I Reading Room" and "Affinity groups."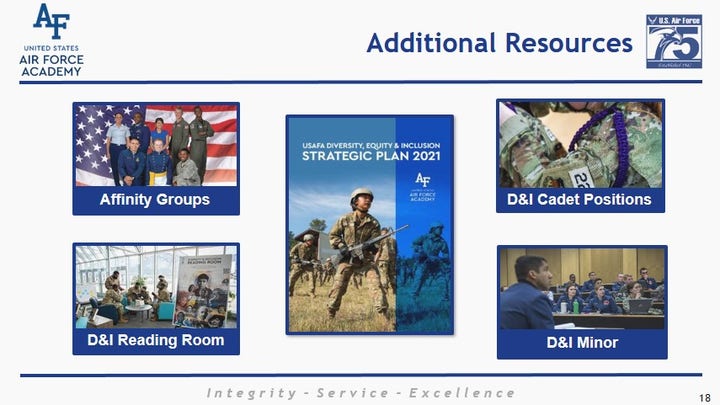 D&I training is intended to prepare cadets for "warfighting effectiveness," according to an Air Force Academy spokesperson. The spokesperson also said the exercises "were intended to highlight diversity of thought and the benefits of including multiple perspectives."
Meanwhile, as noted by The Daily Mail, the images of the slideshow shared by FOX News triggered outrage from Americans across the country, including Rep. Mike Waltz (R-FL).
The Congressman compared the presentation to those seen in the communist Soviet Union and China, held to push extreme ideologies on recruits.
'That is absolutely destructive to morale, to unity, to everything that I know from the military, that by the way, integrated way before the rest of the country in 1948,' Waltz said to FOX News.
Waltz also tweeted, "Wokeness in our military is out of control. We WILL ban this nonsense when we take back the House."
He added, "Each day spent teaching this nonsense is a day lost training our future officers for the next war."
Meanwhile, on Wednesday evening, John Kirby who is the National Security Council Coordinator for Strategic Communications said that the military "should be a diverse organization" but also claimed it is not "woke." You can watch his remarks, here.
The function of the military is to KILL, not coddle feelings. This will not end well. Political correctness has no place in our armed forces. Recruits should be focused on training to kill our enemies, not learning about how to use 'non-gendered language.' Are they going to teach cadets how to storm a beach in drag next? This type of nonsense needs to stop before it destroys our country from within.