NYC Mayor Eric Adams continues to erect tents and cots to centralize incoming travelers as another caravan of illegal migrant buses arrived in New York City on Tuesday.
FOX News reports, Tuesday's first bus arrived at approximately 6 a.m., followed by a second at approximately 7 a.m. Two more buses arrived at 7:16 and 7:40 a.m. At approximately 12:25 p.m., the fifth bus dropped off its passengers and left the city.
New York City has seen back-to-back arrivals of migrants this week.
An Orchard Beach parking lot in the Bronx has been turned into a tent city for migrants by Adams.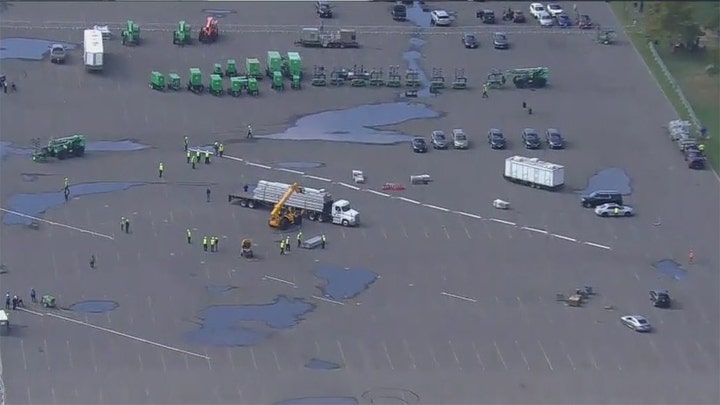 Fox 5 NY Skyfox cameras caught workers laying out tenting equipment Monday as construction began.
As a processing center, the camp will allow migrants to stay for four days before entering the city's overwhelmed shelter system.
A total of 1,000 people will be able to live in the camp, once it is completed, as it will have five enormous, heated tents.
Meanwhile, Adams wants $500 million in federal funding to deal with the flood of migrants entering the Big Apple, leading bipartisan critics to wonder why he doesn't demand that President Biden stop the flow.
Midway through the summer, city officials privately asked the White House for the emergency cash, saying it would cover just one year's worth of spending on migrants who Adams has said are straining the city's shelter system to breaking point.
Since April, more than 10,000 migrants have been bussed from Texas to New York City, which has a right-to-shelter law requiring it to house anyone in need.
I'm amazed. For a few thousand illegal aliens, Adams wants $500 million of your money.
The money will only cover expenses for one year.
We recently reported that New Yorkers don't necessarily want more migrants in the city.
A viral video by the Daily Caller showed that when New Yorkers were asked about immigrants being bussed to the city, they thought it was a bad idea because the city is already "too crowded."