The sun had not yet risen over the horizon, but it was clear that something extraordinary happened before the polls opened.. The blood-red moon hung high in skies above America's capital city as light from its reflection shined down upon Washington DC—casting an omen into this world. And hours earlier, as the Blood moon readied it's rise, one of the world's top globalists died in his sleep sending shockwaves through international banking systems worldwide. What could this mean? A new era has begun it seems…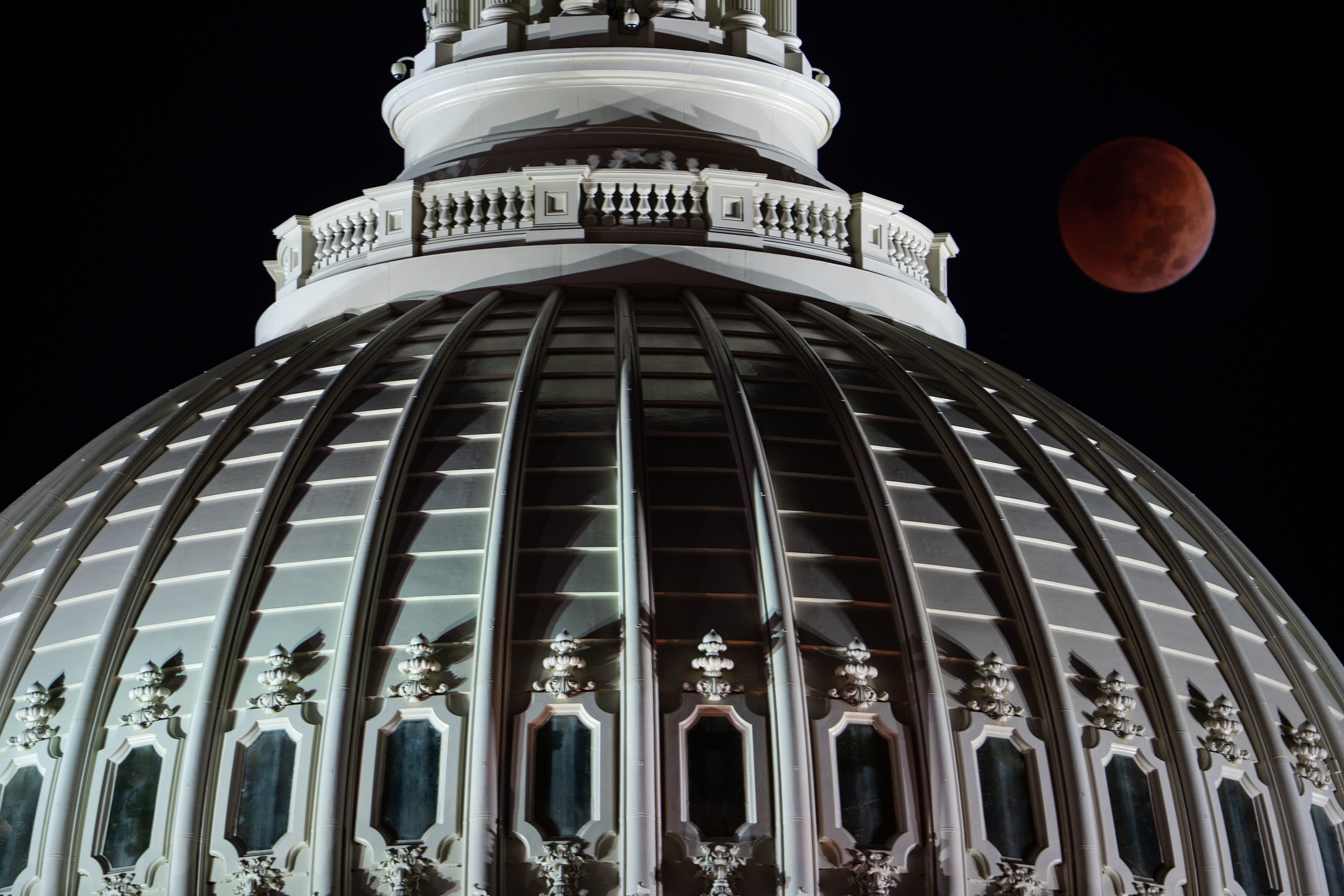 CBN News reports, There was a total lunar eclipse or "blood moon" in the sky overnight, just before today's midterm elections. These tumultuous times have prompted some church leaders to seek prophetic significance in this rare event.
A lunar eclipse occurs when the sun, moon, and earth align, preventing the sun's rays from reflecting off the moon. As a result of such an eclipse, the moon is almost entirely obscured by the sun's light. These peaking rays give the moon its orange or "blood red" color.
This year's lunar eclipse has prophetic significance for some church leaders, as it coincides with both Israeli and US elections.
The CEO of Million Voices, John Graves, spoke on the Flashpoint program and said it indicates a RED WAVE.
Before I get to the unexpected globalist death on the night of the Blood Moon, a "blood moon" is prophesied in Joel 2:31: "The sun shall be turned into darkness, and the moon into blood, before the great and terrible day of the Lord come."
On the Dr Taylor Marshall Podcast he answered the question, "What does the Blood Moon mean in the Bible?" And pointed to the significance that it is a sign of redemption.
A sign of redemption indeed because of equal significance today – sending shockwaves throughout the community of globalists, at the age of 91, Sir Evelyn de Rothschild—whose name means 'with the red sign'—died, fatefully leaving behind a living narrative within a rare and stunning Blood Moon, total lunar eclipse, and global "Red Sign".
Independent reports, according to his family, "Sir Evelyn died peacefully at home." He was a financial adviser to Queen Elizabeth II and his third wife, Lady Lynn Forester de Rothschild was an American lawyer, fundraiser and best friend of Hillary Clinton.
The two were introduced by Henry Kissinger at the Bilderberg conference in Scotland, 1998, ironically held at Trump's Turnberry Hotel with David Rockefeller among other notable globalists in attendance.
According to the Evening Standard, Sir Evelyn believed President Trump was a "LUNATIC" following Trump's overturning of Obama's DACA program.
Back state-side, twitter users remarked on the Blood Moon.
The blood moon rising in the sky at precisely 5:17 AM may have seemed like a sign from God for some and an omen of doom for others, but for those hoping for the end of Globalism, it was the perfect metaphor. Just 60 minutes before the Blood Moon's dramatic entrance into the night sky, Globalist Banker Evelyn de Rothschild was found dead in his sleep – a shocking event that sent waves throughout the world. Could this be a sign that the prophesied "red wave" is finally upon us? Only time will tell, but this blood moon serves as a reminder that no person or institution is invincible. This lunar phenomenon could mark the beginning of a new era — one where power is returned to the people and not held by a select few in positions of wealth and influence. Is this blood moon a sign from God or simply a coincidence? It's up to each individual to interpret its meaning, but what's certain is that Rothschild's death marks a significant shift in the global financial landscape. Only time will tell if this truly marks the end of Globalism, but for now, those hoping for change can take solace in the striking image of the Blood Moon rising above it all.