Over 50.6 million fentanyl-laced, fake prescription pills and more than 10,000 pounds of fentanyl powder were seized by the Drug Enforcement Administration in 2022. According to the DEA Laboratory, these seizures represent more than 379 million potentially deadly doses of fentanyl.
The most deadly drug threat facing this country is fentanyl. The drug is 50 times more powerful than heroin and highly addictive. Two milligrams of fentanyl, the amount that fits on the tip of a pencil, is considered a potentially lethal dose.
In 2022, the DEA seized twice as many fake prescription pills laced with fentanyl as it had in 2021.
DEA Administrator Anne Milgram said in a statement, "In the past year, the men and women of the DEA have relentlessly worked to seize over 379 million deadly doses of fentanyl from communities across the country. "These seizures – enough deadly doses of fentanyl to kill every American – reflect DEA's unwavering commitment to protect Americans and save lives, by tenaciously pursuing those responsible for the trafficking of fentanyl across the United States."
The DEA is blaming Mexican drug cartels for trafficking the drug that is killing Americans in droves. Chemicals sourced largely from China are used to mass-produce most of the fentanyl trafficked by the cartels, according to the DEA.
The DEA has released some tips for parents & caregivers about fake pills & the dangers of fentanyl, which include: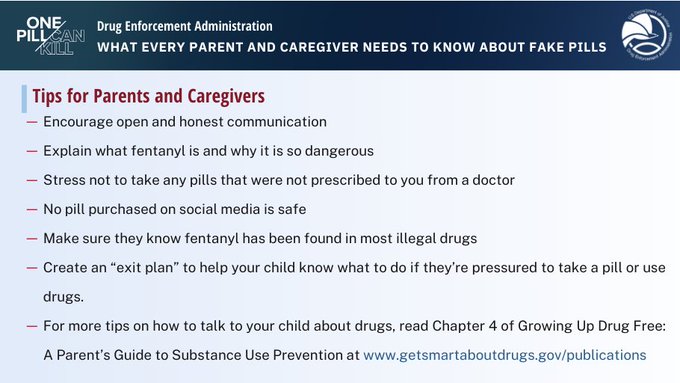 Explain what fentanyl is and why it is so dangerous; Stress not to take any pills that were not prescribed to you from a doctor; No pill purchased on social media is safe; Make sure they know fentanyl has been found in most illegal drugs; Encourage open and honest communication; and Create an "exit plan" to help your child know what to do if they're pressured to take a pill or use drugs.
The disgraceful figures released by the Drug Enforcement Administration reveal that the United States has been struck with a fentanyl crisis, and that it is much more dire than what authorities had initially envisioned. In 2022, an alarming 50.6 million fake prescription pills and 10,000 pounds of fentanyl powder were seized by the DEA – equivalent to 379 million doses of potentially deadly fentanyl. The data reflects a double-fold rise from last year's numbers, indicating a worrying increase in production and availability of this powerful opioid. With these figures being indicative of just how far-reaching the opioid crisis has become, President Biden needs to take action now in order to prevent any further American deaths related to drug use.