San Francisco's once-thriving business landscape is now crumbling due to crime, drug use, and declining foot traffic. In yet another blow to the city's commercial health, a major company recently closed its flagship store in San Francisco's Union Square. The move follows in the footsteps of Nordstrom and Whole Foods, which also shuttered their downtown stores amid security concerns. While some may attribute the decline to the pandemic, San Francisco's struggles began long before the outbreak. These events are a stark reminder of how cities that prioritize progressive policies over public safety and economic growth risk driving out both residents and businesses.
San Francisco's liberal policies and rampant crime are impacting businesses as companies struggle to maintain foot traffic and safety. T-Mobile recently closed down its flagship store in San Francisco's Union Square, citing declining foot traffic and rising criminal activity in the California metropolis. Signs announcing the closure were placed in the windows of the store, which spans two stories and 17,000 square feet.
A spokesperson for T-Mobile explains that the company has "reshaped" its retail strategy. But, it is no secret that the company was likely forced to close the Union Square branch due to the escalating criminal activity in the area. Other retailers like Nordstrom and Whole Foods have also closed their downtown San Francisco locations due to the rampant drug use and criminal activity around their establishments. In fact, nearly 8% of current San Francisco residents plan to move elsewhere within the next year, according to data from the Census Bureau. This surge is surpassing levels seen in every other major American city.
Part of the problem is that crime in San Francisco has led to a severe decrease in quality of life for residents and businesses. Pharmacy giant Walgreens closed several locations in the city, while technology retailer Best Buy has struggled with safety issues related to organized retail crime. The number of arrests in San Francisco has noticeably fallen significantly over the past three years amid calls to defund law enforcement by the city's Democratic Mayor London Breed and prominent officials.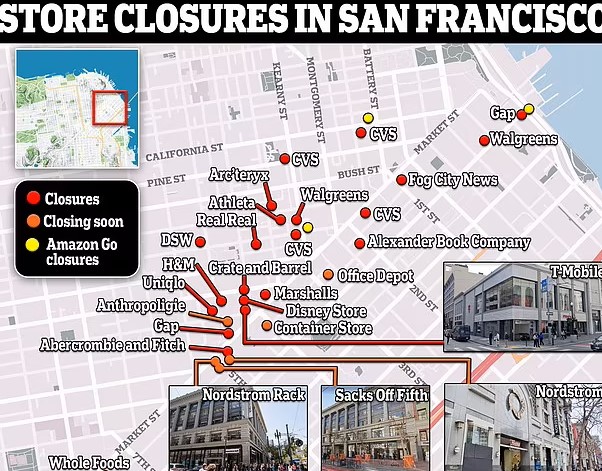 Meanwhile, the city has lagged behind other major cities with respect to foot traffic. The metric reached only 42% of levels witnessed at the end of 2019 as of the first quarter of 2023, according to data from Placer Labs. In an attempt to reverse this trend, Mayor Breed has even endorsed amendments to the city's building codes, allowing commercial structures to be transitioned into residential housing. This move not only signifies a lack of priority for retail establishments but also highlights the failure of the city's leadership in addressing the issue.
The National Retail Federation released a report last month indicating that companies across the nation have contended with increases in retail theft, much of which is increasingly organized by criminal enterprises. The report states that crime networks have become increasingly "violent" and "brazen" in their tactics over the past two years, using methods such as smash-and-grab, weapons, or threats of violence against store employees and customers. San Francisco's liberal policies and refusal to address the city's crime problem may have instigated these concerning trends.
The city's local leaders must take an honest look at the root causes of the city's decline and rethink their approach to governing. Defunding law enforcement has only emboldened criminals who now operate with greater impunity than ever before. As businesses continue to abandon the city, tax revenue drops, making it even harder to invest in infrastructure and public services. It is not too late for San Francisco to reverse course and prioritize the well-being of its citizens over radical political experiments. But time is running out, and the city must act fast if it hopes to regain its standing as a prosperous, dynamic metropolis.