As the surge of migrants at the southern border continues to overwhelm Texas, Governor Greg Abbott has been taking action to ease the burden on his state. In an effort to send a message to Democrat-run cities, Abbott has been sending buses of migrants to places like New York City, Chicago, and now, Denver. The cities have condemned Abbott's actions, but he remains steadfast in his efforts to hold the Biden administration accountable for their reckless open-border policies. As Title 42 is now over, the situation at the border will only worsen, making Abbott's actions all the more necessary.
Republican Texas Governor Greg Abbott has continued his valiant efforts to combat the Biden administration's reckless open border policies by sending a bus of migrants to the sanctuary city of Denver, Colorado. This marks the fourth destination of Abbott's brave initiative, following successful efforts to send transports to Democrat-run cities like Washington, D.C., New York City, Chicago, and Philadelphia.
Abbott's commitment to secure the southern border and enforce immigration laws has never been more critical than it is now, as the end of Title 42 looms ominously on the horizon. This Trump-era expulsion order has served as a crucial tool for managing the record influx of illegal immigrants flowing into our country, but President Biden has suddenly decided to abandon it and allow the floodgates to open wide.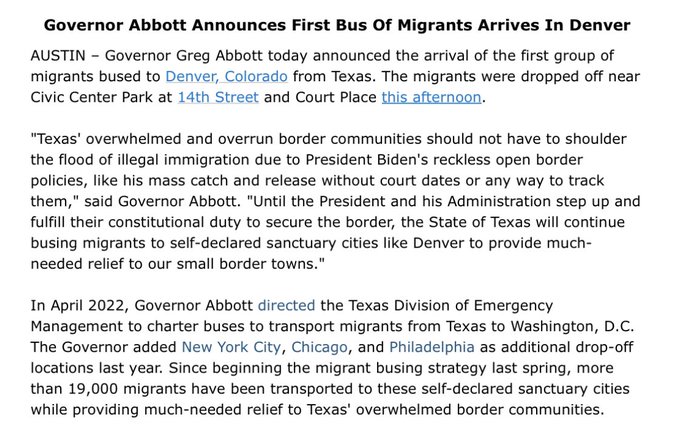 In his statement on Thursday, Abbott made it clear that Texas' overwhelmed and overrun border communities should not bear the brunt of the president's dangerous policies. The mass catch-and-release program that Biden has implemented offers no hope of tracking these individuals, nor does it guarantee that they will ever show up for their court dates.
While Abbott's noble efforts have been met with harsh condemnation from leaders in Democrat-run cities, migrants that arrived in Denver this week actually thanked the Texas Governor for giving them the opportunity to travel to a different location in the United States.
It is worth noting that Denver has already experienced a surge of migrant arrivals even before Abbott's initiative began. In December, the city's Democratic mayor, Michael Hancock, declared a state of emergency, citing the unprecedented influx of illegal immigrants. The city announced in April that it had already received a total of 6,000 migrants.
Abbott's courageous efforts have already resulted in the transport of roughly 19,000 individuals, but much work remains to be done. The safety and security of our nation depend on the implementation of strong immigration laws and boundaries, and Abbott's unwavering commitment to this cause must be acknowledged and celebrated by all who value our sovereignty and liberty.
In the face of the Biden administration's border crisis, Governor Abbott's decision to send migrants to Democrat-run cities is a bold but necessary move. The surge of migrants at the southern border has overwhelmed Texas, and it is unacceptable that the state's border communities should have to bear this burden alone. Abbott's actions not only hold the Biden administration accountable for their irresponsibility, but they also send a message to sanctuary cities that their open-border policies have consequences. As the situation at the border continues to worsen, Abbott's actions may be the only thing standing between Texas and total collapse.