In case you missed it, here is how Joe Biden addressed the country on Thursday night.
On Twitter, many people took issue not only with Joe Biden's hateful rhetoric towards Republicans, but the scene in which Biden spoke. In response to his speech, Twitter users gave Biden the nickname, Pedo Hitler, which trended on Twitter Friday morning.
One Twitter user wrote, "As a Jew, this imagery from the #BidenSpeech actually scares me, and makes me fear the future. What's the definition of terrorism again? Oh yeah, making people so scared they don't want to live their normal lives. #PedoHitler"
Another Twitter user shared a photo with the caption, "I am The Government"- Joe Biden #PedoHitler" as a reference to Emperor Palpatine in Star Wars.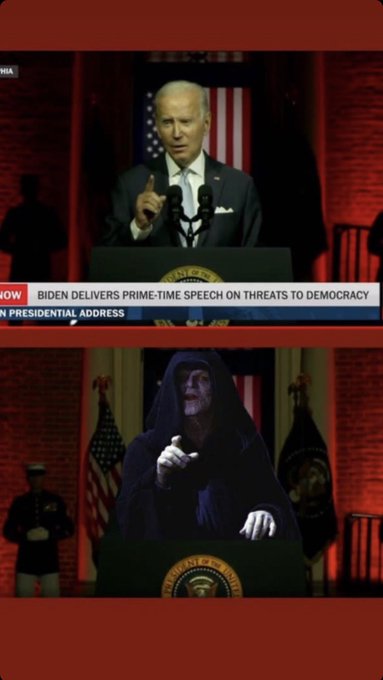 Another Twitter user wrote, "Evil no longer hides itself. #pedohitler"
And This person tweeted, "Why does #PedoHitler hate America so much? America has given Joe Biden everything. He's lived off of American taxpayers his whole life. But he has so much hate in his heart towards our nation & our wonderful people. Biden is a sick, evil, & satanic man. He must be impeached."