12 days out from the midterm elections, a TV news station in Arizona apologized for airing a graphic that showed Katie Hobbs as the winner.
The Washington Examiner writes, At the bottom left-hand corner of the screen on FOX 10 Phoenix Thursday afternoon, the graphic showed Hobbs with 53% support, compared to 47% for Lake.
Currently Arizona's secretary of state, Hobbs had a check next to her number, indicating she had won.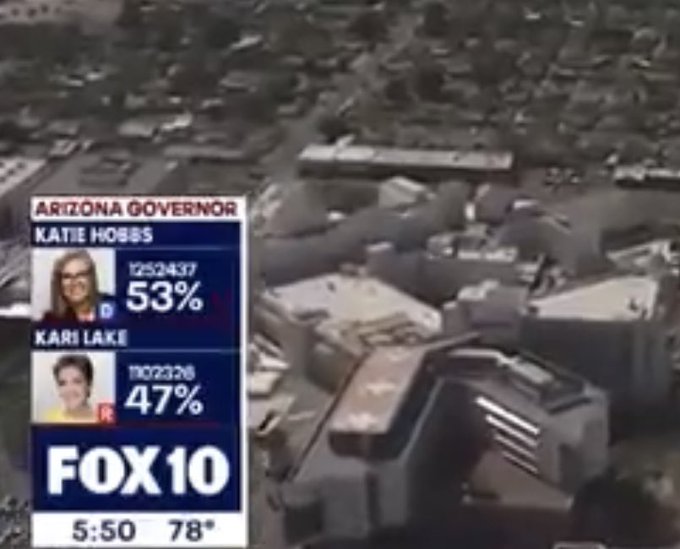 Here's the video of the newscast.
"At 5:50p during the Fox 10 news cast today a small graphic appeared on the lower left side of the screen showing test results for the upcoming election. These were generated by the Associated Press which distributes results to clients," FOX 10 said in a pair of tweets. "This graphic was never meant to go on air — the numbers were only part of a test. The station has taken steps to make sure this cannot happen again."
As clips of the newscast were shared on social media, Lake noticed the video and responded to it.
"WOAH.. right after my press conference going after the Media. Retaliation?" she tweeted.
Lake's response references her criticizing the media in an "emergency press conference" earlier in the day accusing journalists of "attempting to influence this election" in response to news reports about a break-in at Hobbs's office in Phoenix earlier this week and allegations from the Arizona Democratic Party that Lake had been responsible.
As election day inches closer, all eyes are on the battle for Arizona's governor seat. And while Kari Lake is leading in the polls and is backed by the red wave sweeping through the country, a startling mistake by an AZ TV station has raised questions about the integrity of our voting system. The station accidentally aired a graphic showing her opponent Katie Hobbs as the winner, 12 days before voters even have the chance to cast their ballots. While they have apologized and claimed it was just a mistake, this is not the first time we've seen something like this happen. Is it possible that the fix is already in? With consistent excuses from the left of foreign interference and voter suppression efforts supposedly rampant throughout the country, it's crucial to ensure that every vote is counted accurately and fairly on November 8th. We owe it to ourselves, our democracy, and everyone who fought for our right to vote. Let's make sure their sacrifices were not in vain.