A series of embarrassing blunders were made by President Biden during campaign events in Florida on Tuesday.
And, as reported by Townhall, even the NY Times wrote about Biden's slip ups and gaffes from the Florida event.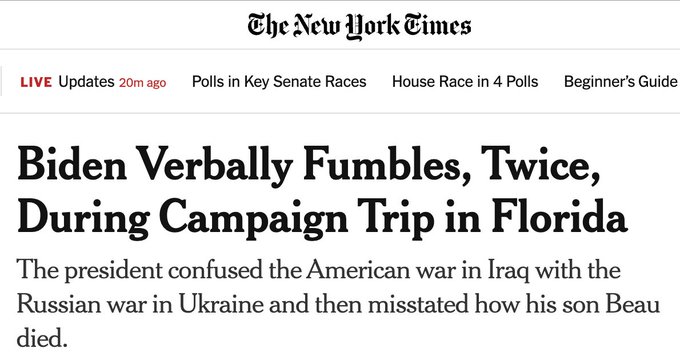 While the NY Times only called out Biden for two of his mistakes, Townhall pointed out more mistakes from his remarks. These include: Saying Debbie Wasserman Schultz worked in the senate, forgetting what FEMA stands for, forgetting the name of Hurricane Ian, saying "the war in Iraq" is to blame for inflation, claiming he met the man who discovered insulin, and even busting out the southern accent.
We'll get to the strange marks in a moment but first here's a montage of his mistakes, courtesy of Townhall:
However, that's not the only part of the event that has people talking.
A photo taken by AP photographer Evan Vucci of Joe Biden's hand is raising new questions about his health.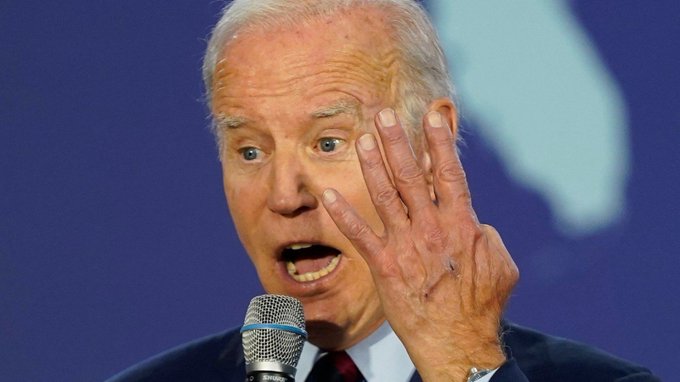 As noted by Meaw, the photo suggests that Biden may have recently been administered an IV line or is recovering from a puncture wound.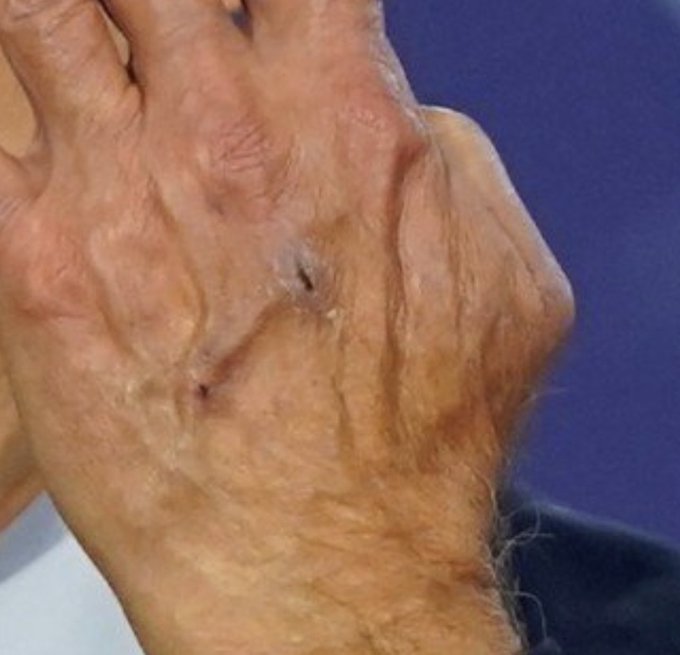 The photo made its rounds on social media and drew the attention of Dr Nan Hayworth MD.
"Not making a diagnosis here, but those marks on Mr. Biden's hand does resemble the residue of punctures," she wrote on Twitter. "Usually, blood draws are done from the antecubital (inside of elbow) vein. Intravenous lines are often inserted in the hands."
Hayworth's tweet prompted several other Twitter users noting something wasn't quite right.
"Those are IV scars," journalist Ian Miles Cheong tweeted.
YouTuber Mrgunsngear tweeted, "I've seen many blown veins from IVs. Usually, after frequent use. Which begs the question: What is Joe Biden frequently getting pumped into his veins?"
We need a leader who is not only transparent about their health but who is in the best condition possible to lead our great nation. We cannot afford to have a President who is not fully capable of doing their job. If Joe Biden is undergoing secret medical procedures or getting some kind of fluids through an IV, the public should be made aware of it. In addition, Biden should also undergo a cognitive test, just like President Trump did while he was in office. In the meantime, it is critical that we elect strong Republican candidates up and down the ballot this election so that we can protect our nation through the Congress, and when the time comes in 2024, do the exact same thing in order for a Republican to take back the oval office.