During his trip to Arizona, President Joe Biden defended himself from criticism that he should visit the border.
During his trip to Phoenix, Biden will help Taiwan Semiconductor Manufacturing Company announce plans for a second microchip facility in the state, doubling its commitment to $40 billion, one of the country's largest foreign direct investments, according to the Washington Examiner.
While confronted by reporters about his Arizona trip not involving plans to visit the southern border, Biden said, "There are more important things going on."
The union representing rank and file Border Patrol agents responded to President Biden's comments that there are more important things than visiting the border.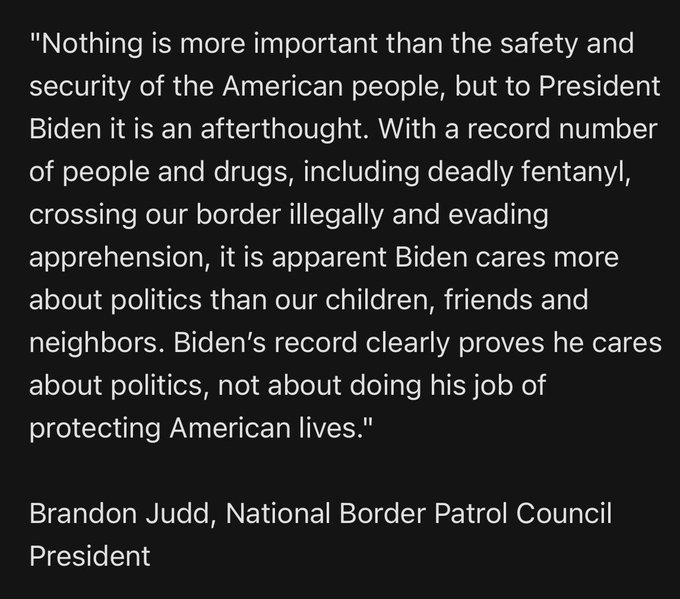 Brandon Judd, President of the National Border Patrol Council, said, "Nothing is more important than the safety and security of the American people, but to President Biden it is an afterthought. With a record number of people and drugs, including deadly fentanyl, crossing our border illegally and evading apprehension , it is apparent Biden cares more about politics than our children, friends, and neighbors. Biden's record clearly proves he cares about politics, not about doing his job of protecting American lives."
The group added on Twitter, "No surprise that Biden doesn't think the border crisis is "important" or worthy of visiting/bringing attention to. What is happening at the border is exactly what he wants-rampant lawlessness along with a new all-time record for escapes in November. To him, that's a win-win."
As noted by Townhall, Yuma County Sheriff Leon Wilmot also criticized Biden for not visiting the impacted areas, calling it a "shame."
It's no surprise that President Joe Biden's recent comments about the southern border have been met with criticism from border patrol agents. His response of- "There are more important things going on" – showed a blatant disregard for the crisis unfolding at the border. Drug smuggling and human trafficking at the U.S.-Mexico border are at an all-time high under his watch, posing a dangerous national security risk. The only way to protect Americans is to secure our southern border. This is a crisis that can no longer be ignored, and President Biden needs to take immediate action.