Tiffany Cross has been fired from MSNBC after NBCUniversal executives became tired of her "bad judgment."
A source close to the situation told Fox News Digital that Cross will be replaced by rotating guest anchors until a replacement is named.
Cross' two-year contract with MSNBC was not renewed and she was immediately cut off. Internally, the move is being billed as a programming decision, and her staff will remain with the network and produce "Cross Connection."
MSNBC Host Joy Reid who hosts "The Reid Out" spoke out about Cross' firing, seemingly defended the former host.
In a statement, the political analyst said that her "work is not done" following the cancellation and vowed to continue to "speak the truth."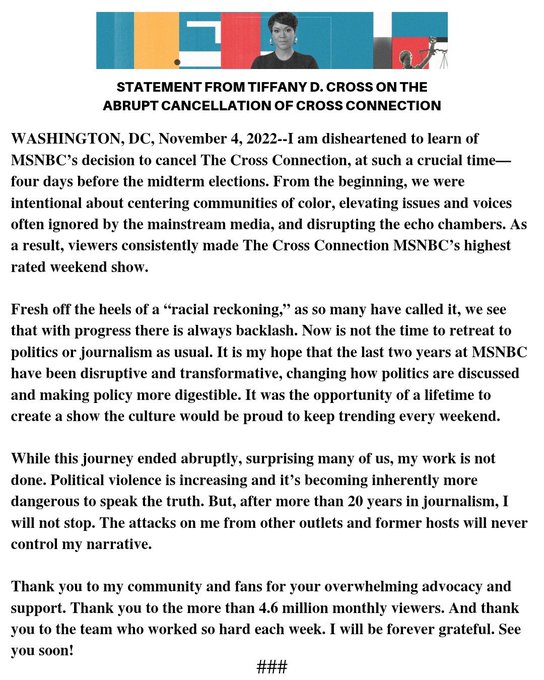 Cross' divisive rhetoric is thought to have irked NBCUniversal honchos.
It has been speculated that Cross' appearance last week on Comedy Central, in which she said Florida should be "castrated" from the rest of the country, may have contributed to her ouster.
She also warned about "White replacement" on her show and blasted Republican members of Congress as "White supremacists."
In addition, in January, Cross urged fellow progressives to "pick up a weapon and get involved" in the country's survival "war."
However, Despite all of this, liberals on social media did not appreciate the network cutting ties with the divisive host.
One person wrote on Twitter, "Wow! Talk about unfairly fired. @MSNBC WHAT on Earth were you thinking? Your drastic reaction is ridiculous. Honestly, what exactly was untrue or offensive to what was said? Nothing."
And another said, "You will be missed, but please don't stop being YOU. Sadly, Politics not only happen in elections but also happen in the board rooms (that are generally run by white men) that continually fear strong intelligent women & will do anything to protect their little seats of power"
Great news that MSNBC has finally seen the light and fired Tiffany Cross for her racist and inflammatory comments. It's about time that they took action against someone on their network who so blatantly promotes division and hatred. And while it's a step in the right direction, there is still more work to be done – namely getting rid of weeknight host Joy Reid, who also has a long history of making extremely offensive and racist remarks. Goodbye to Cross and all other race baiters like her – good riddance to their poisonous rhetoric. Here's hoping MSNBC continues cleaning house and creating a more inclusive, peaceful environment on their network.